Italian Pot Roast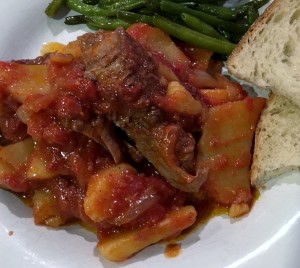 3 tbsps olive oil
3 cloves of garlic - peeled and smashed
1 medium onion - sliced
3 springs of rosemary
3-4 lbs of beef chuck or top round - slab 2-3 inches thick
1 lg can (28-32 oz) of Italian San Marzano tomatoes
4 lg russet potatoes -peeled and sliced
1 cup beef stock
½ c of Parmesan cheese
1 tbsp sugar
Salt & Pepper
Garlic Powder
Preheat the oven to 300-325 degrees
Using a large Dutch Oven - over medium heat, add the olive oil and then the garlic, cook garlic until golden color.
Pat the beef dry and generously apply salt, pepper and garlic powder.
Sear the beef on both sides.
Add the beef stock and cook for about 5 minutes.
Drain some of the water off the tomatoes and break them up and add to the pot.
Add the onions and the potatoes.
Add the Rosemary Springs and the Parmesan Cheese.
Add the sugar and more salt and pepper. Taste to add any more flavor to your preference.
Put the Dutch Oven into the oven and allow to cook for 3-4 hours.
Do not be tempted to keep checking it. This will be fine and the meat will tenderize as the flavors meld together.
You can serve with freshly grated Parmesan Cheese on the table.
I served this with fresh green beans that were made with garlic and olive oil as well as "nice" Italian bread. Garlic knots or garlic bread would go well also.