Spinach Linguine with Succulent Garlic and Buttery Shrimp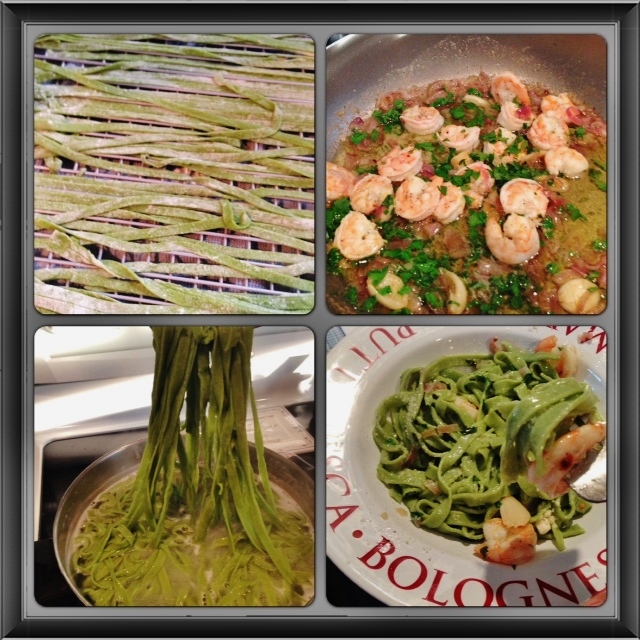 Homemade Linguine
2 cups Flour
3 Egg
½ tsp salt
½ tsp olive oil
1 bag of baby spinach
Garlic & Buttery Shrimp
1# fresh shrimp - peeled and de-veined (I prefer Jumbo which are 21/25 count)
1 stick of butter
1 tbsp. of olive oil
4-5 cloves of garlic - peeled and minced
Salt
3 scallions - sliced
A good handful of chopped flat leaf parsley
1 lemon
If you know how to make homemade pasta with a pasta machine or Kitchenaid and pasta attachment then I suggest this recipe. If you don't please buy spinach linguine at the store. I really need to teach you this in person or on video. Listen it took many days of watching Grandma Sue on this homemade pasta lesson. :) My mother-in-law Gina is the master so I'll get her over to teach this to all of you if interested! If you want to give it a try here it is:
Boil the spinach and then puree it in a food processer.
Mound the flour on a clean work surface. Hollow out the center making a well in the middle of the flour with very steep sides.
Crack eggs and add them into the well. Add the salt, and olive oil gently mix together with a fork. Add the spinach and gradually start incorporating the flour by pulling in the flour carefully into the liquid. As you incorporate more of the flour, the dough will start to take shape.
With a bench scraper continue working the dough until it comes together. If the dough is too dry, add a little water; if too wet or sticky, add a little flour.
Knead the dough until it becomes smooth and elastic and set the dough aside, cover it with plastic and let it rest for 30 minutes or put it in the refrigerator until you plan to use it but let it come back to room temperature.
Cut the pasta dough in circles about 3-4 inches in diameter.
Use your pasta maker to roll out and then cut the pasta.
In a large pot boil water and add a generous palm full of salt at the boiling point. Add the linguine.
In a large skillet over low heat melt the butter and then add the olive oil. Mince the garlic and slice the scallions and add to the skillet. Saute for about 8-10 minutes on medium heat.
Clean and de-vein the shrimp.
Add the shrimp to the skillet and cook on medium heat. Do NOT leave the shrimp as when they start turning pink you need to turn the over to cook on the other side. When the other side is pink take the shrimp off the burner. If you overcook them they will be rubbery.
Zest the lemon and add to the skillet as well as the juice of the lemon. Throw the parsley over the top.
Once the pasta is done cooking, drain and add the succulent shrimp over the pasta in a nice pasta bowl.
Enjoy!
Recipe by
Julia's Child
at http://juliaschild.com/spinach-linguine-succulent-garlic-buttery-shrimp/