Stuffed Zucchini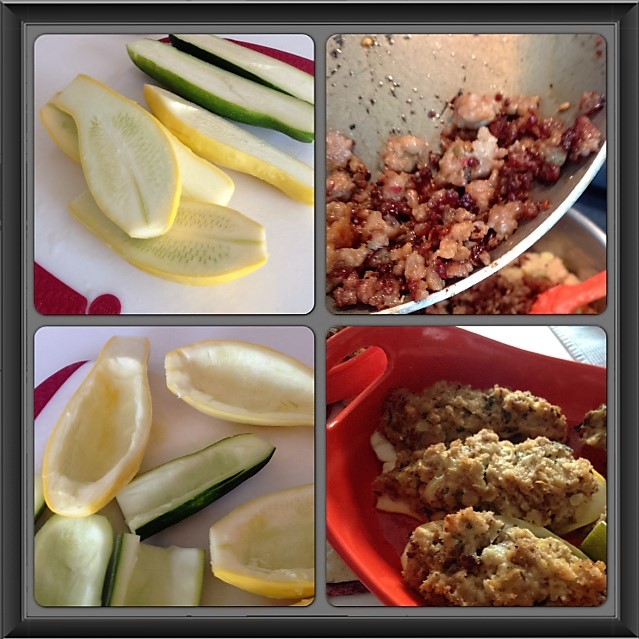 2 medium zucchini
2 medium summer squash
Olive oil - 3 or 4 tbsp.
2 cups chicken stock
2 links of Hot sausage
Italian bread - 1 stale loaf cubed and dried or 1 bag of 15 oz bread stuffing (plain)
1 medium onion- sliced
½ c of chopped flat leaf parsley
Salt and Pepper
Garlic Salt and Garlic Powder
Cut the zucchini and summer squash lengthwise and dig out the meat saving it in a bowl.
Over medium heat, add 2 tbsp of olive oil to a skillet and scramble the sausage and fry it until golden brown.
In a soup pot put another tbsp of olive oil and fry the onion and squash that you removed from the centers and cook until almost done.
Add the bread cubes and stir, slowly adding the chicken broth, chopped parsely and fried sausage.
Add salt, pepper and garlic salt and powder to your taste preference.
When all ingredients are well mixed and the bread softens take off from heat.
Put the sausage stuffing in each of the zucchini and squash.
Have a baking dish with olive oil ready and put each of the squash side by side.
Bake at 350 for about 20-25 minutes or until the zucchini softens enough to eat!
Also if you prefer you can also pour a little Marinara Sauce or a light fresh tomato sauce over these.