Sandro's Chicken Cacciatore!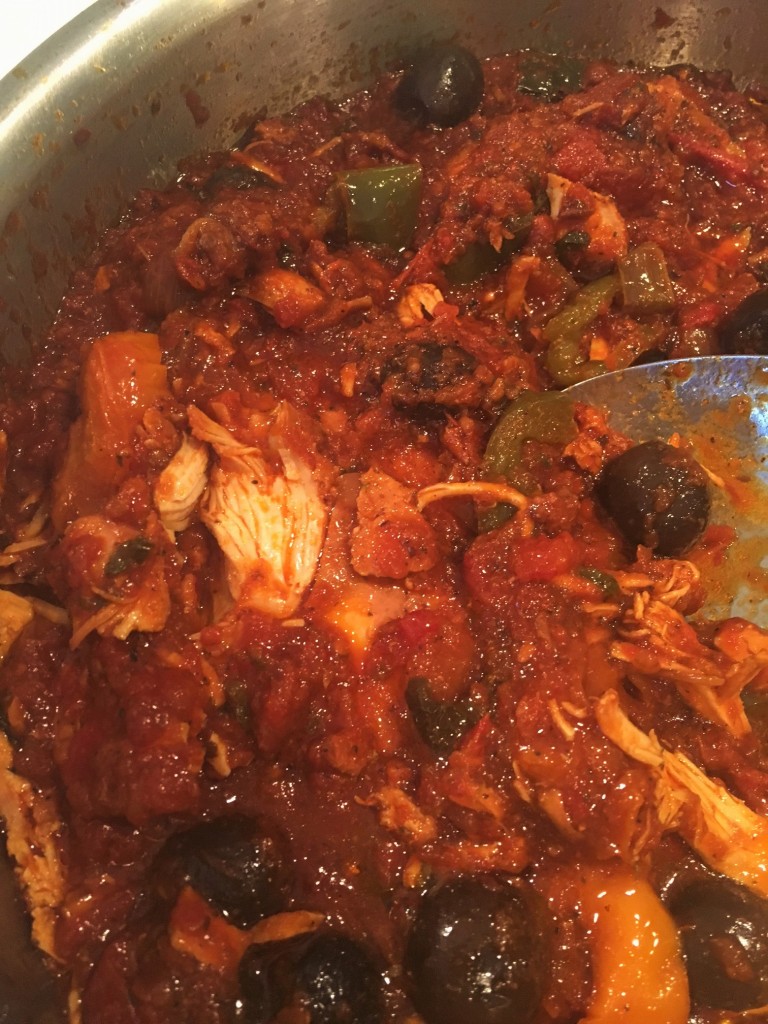 2-3 Tbsp olive oil
3 cloves of garlic
1 green pepper - sliced
1 red bell pepper - sliced
1 yellow pepper - sliced
1 onion - sliced
1 can of medium black olives - drained
3 skinless boneless chicken breasts - fillet the chicken in half
Tomato sauce - either homemade or your favorite tomato sauce (2 jars)
Salt and pepper
Parmesan Cheese
Preheat the oven to 325 degrees
Salt and Pepper both sides of the chicken breasts and put them in a covered baking dish.
Over low to medium heat add olive oil to a large skillet add the garlic and peppers with salt and pepper and fry for a few minutes and the add the onions with a little more salt and pepper and fry until slightly tender.
Add the tomato sauce and simmer on low for 10 minutes stirring occasionally.
When chicken reaches 140 degrees uncover it and pour the sauce mixture over the chicken, mix well, add the can of black olives, place back into the oven at 350 degrees until chicken reaches 180 degrees - which should be about 15-20 minutes.
Take out of oven and let sit for a few minutes covered.
Serve over rice or your favorite pasta!! Add some Parmesan Cheese. Serve with Italian or Garlic Bread.
Recipe by
Julia's Child
at http://juliaschild.com/sandros-chicken-cacciatore/