Retro Sides -Sweet Potato Puff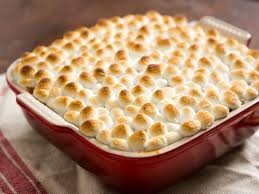 4 medium sized sweet potatoes
½ cup orange juice
½ cup light cream or milk
1 teaspoon vanilla extract
½ cup sugar
6 tablespoons butter
½ teaspoon cinnamon
½ cup brown sugar
1 bag mini marshmallows
Bake or boil the sweet potatoes
Drain or remove from skin
Place the potatoes in a bowl and mix in the 3 TBSP butter, light cream or milk, orange juice, vanilla, sugar and cinnamon. Mix with an electric beater until smooth.
Melt the remaining butter in a bowl and mix in brown sugar.
Sprinkle the mixture over the sweet potatoes and bake on 350 degrees for about 30-35 minutes.
Take the potatoes out of the oven and place mini-marshmallows on top and cook until marshmallows are slightly browned.
Recipe by
Julia's Child
at http://juliaschild.com/retro-sides/