Warm up with Navy Bean Soup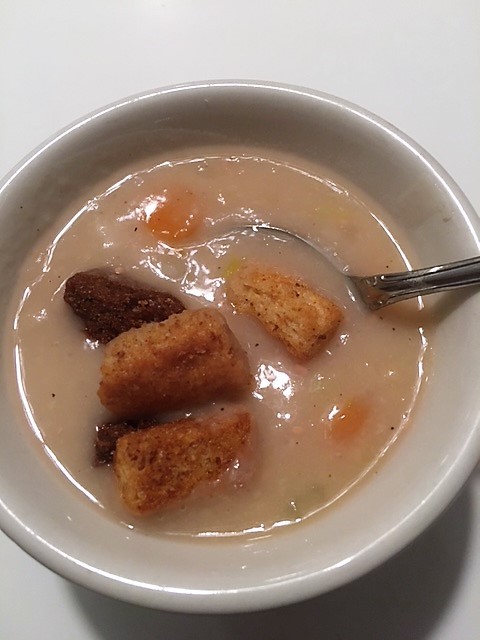 Olive Oil
1 Garlic
1 bag Navy Beans - dry
1 c chopped celery
2 carrots - sliced
1 med onion - diced
2 qts water or chicken or vegetable stock
Ham Bone if available
Ham - 1 cup diced
2 tbsp flour
Salt and Pepper
Garlic Salt
Garlic Powder
Ground thyme or add fresh thyme if available
Pour the beans into bowl and cover with water. Soak for a couple of hours.
Rinse the beans, place beans in crockpot with enough water to cover beans well. I cook these on low overnight. If you want sooner cook on high until bean is soft.
In a soup pot or dutch oven pot pour olive oil to cover the bottom of the pot over medium heat. Remove skin from garlic and smash with knife. Saute the garlic until a golden brown.
If you have a ham bone in a separate pot, boil the ham bone in the water. Otherwise you can just use a soup stock or water seasoned well.
Dice and slice the celery, onions, and carrot.
Add the carrot to the pot and some salt and pepper, garlic salt and powder. Saute a few minutes.
Then add the celery and onions, a dash of the salt, pepper and garlic salt and powder again. Saute until almost cooked.
When the veggies are cooked, add the flour and make a rue, cooking it off for a couple of minutes.
If you have ham, chop about a cup of ham and set aside.
When beans are cooked and cooled, take close to half of the beans and blend them in a blender or food processor with a little water. Set aside.
Pour the stock or water you boiled the ham bone in. Add a little at a time and whisk each time you add the water.
When all the water is in the pot, add the bean puree and fold in well.
Add the ham and the rest of the navy beans.
Taste and add salt, pepper, garlic salt and thyme to your taste.
Simmer, pour in bowls with some croutons and enjoy!
Recipe by
Julia's Child
at http://juliaschild.com/navy-bean-soup/