Creamy Tortellini with Spinach & Artichokes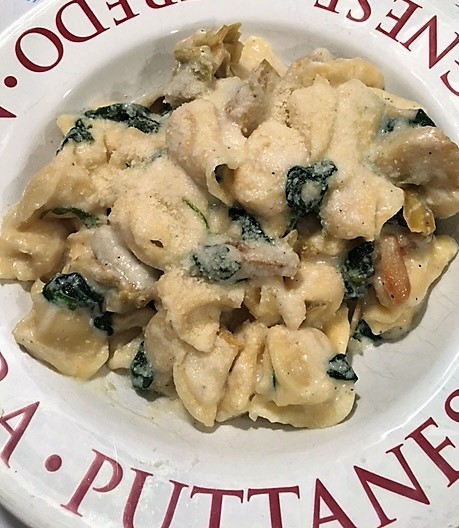 Cuisine:
Italian American
Bechamel Sauce
3 Tbsp. butter
3 Tbsp. flour
2 c. 2% milk
Salt and Pepper
¼ tsp. garlic Powder
Freshly grated Nutmeg about ⅛ tsp.
½ c Parmesan Cheese
6 Italian Cheese - shredded (in packaged cheese section at grocery store)
Other
1 pkg of frozen artichoke hearts
1 bag of baby spinach
1 pkg of 3 cheese tortellini
2 tbsp olive oil
4 cloves of garlic, peeled and smashed
Salt and Pepper
Over medium high heat saute the garlic in olive oil until golden brown.
Follow the instructions on the box for the artichoke hearts and then add artichoke hearts and to the pan and season with salt and pepper.
Add the spinach and more salt and pepper and fully cook and set aside.
Over high heat bring a pot of water to a rolling boil.
Add a generous amount of salt, add the pasta and boil until desired texture.
For the Béchamel Sauce - In another medium size pan over medium heat melt the butter, whisk in the flour and cook for about a minute or so the whisk in the milk, adding slowly. After flour is dissolved in, add a generous pinch of salt, pepper, garlic powder and the nutmeg. Bring to a slow bubble and add in the Parmesan Cheese and Shredded 6 Italian Cheese and allow dissolving in the sauce. Gently simmer –stirring frequently.
When pasta is done cooking add it to the spinach and artichokes, mix, pour the Bechamel Sauce over the top and fold in. Top with Parmesan cheese.
Recipe by
Julia's Child
at http://juliaschild.com/creamy-spinach-artichokes-tortellini/