Palate Pleasing Creamy Potato Soup!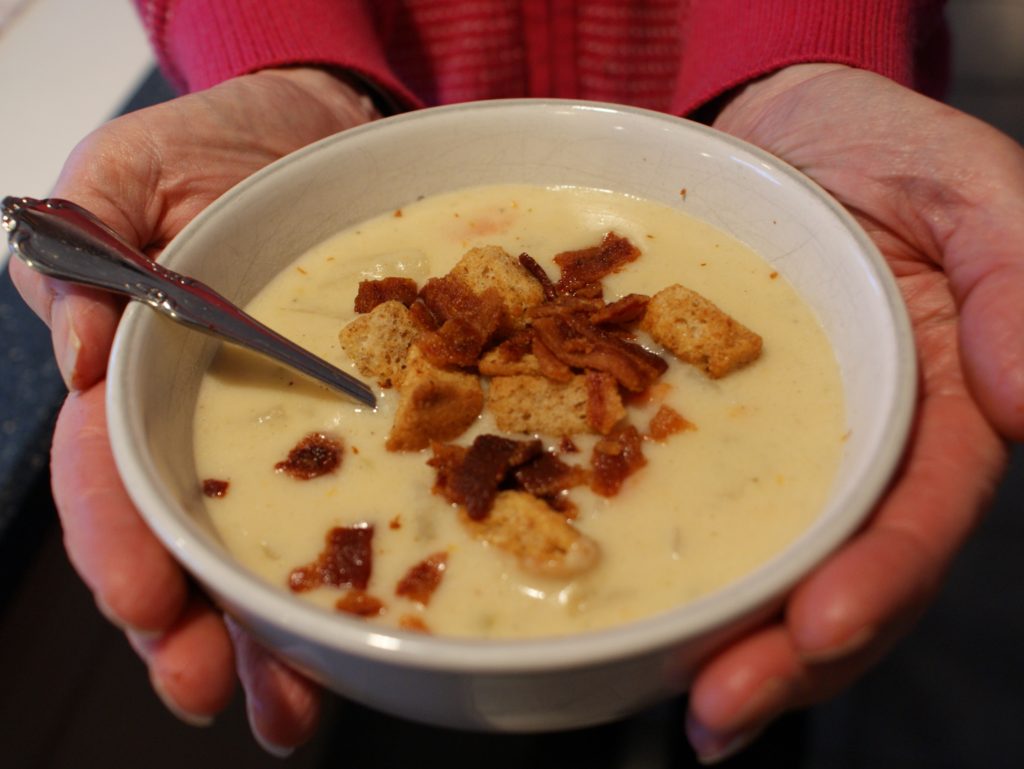 2 carrots - diced
2 celery stalks - diced
1 med onion - diced
2 garlic cloves - peeled and smashed
1 large or 2 med sized russet potatoes - peeled and cubed into small pieces
Butter - half stick
1 tbsp olive oil
32 oz chicken stock
1 pint of half and half
Whole Milk - add as needed to loosen the consistency
3 tbsp flour
Salt and Pepper to taste
Garlic Powder and Garlic Salt - to taste
1 tsp fresh or dried thyme
½ tsp ground sage
4 slices of bacon
Croutons
In a large dutch oven pot - melt the butter and add the olive oil, add garlic and saute until golden brown.
Add the carrots, celery and onions and salt, pepper, garlic powder and garlic salt - saute until starting to soften.
Add the flour and stir, allow to cook off for a couple of minutes to remove flour taste.
Add the chicken stock slowly and whisk as you add it.
Add the half and half and continue to whisk.
Allow to come to a slow boil and add the potatoes.
Add more seasonings as needed and add the thyme and sage.
Allow to come to a rolling boil and then turn heat to medium and simmer until potatoes are cooked and soup is a thickened consistency.
While the soup is simmering cook the bacon in the oven so it is nice and crisp.
When serving the soup add the croutons and crumble bacon over the top.
Recipe by
Julia's Child
at http://juliaschild.com/palate-pleasing-creamy-potato-soup/