Sandro's Scrumptious Lasagna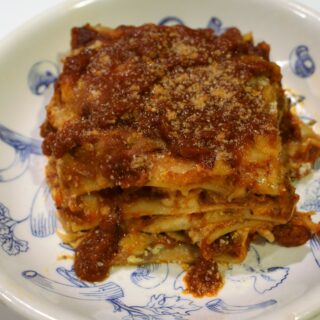 Sauce - make your own or purchase a top of the line sauce
Ricotta Cheese - whole milk - 1lbs
1 large egg
Lasagna Noodles - 1 box use amount according to how much lasagna you make
Hot Sausage - cooked and sliced or crumbled
1 lb of ground beef, flavored with salt, pepper and granulated garlic or minced garlic and fried
Mozzarella cheese - shredded
Parmesan Cheese
In a large pot with boiling hot water and a generous amount of salt, boil the lasagna noodles until al dente meaning still having a bite to them or still somewhat uncooked.
Drain the noodles and put them on a clean dry towel, single layered.
In a large baking dish, coat the bottom with olive oil or cooking spray.
Put the ricotta cheese in a mixing bowl and add the egg, salt and pepper and garlic powder, parm cheese and fold into the ricotta.
Put the sausage in a baking dish with olive oil and bake until crispy golden brown.
Simmer the sauce on the stove and then add the sausage and simmer.
In another frying pan cook the ground beef adding salt, pepper and garlic powder until browned.
After the sauce simmers for a bit take sausage out slice or mash into pieces.
Layer the lasagna accordingly: Sauce, Noodles, Meat, Sausage, Ricotta Cheese, Mozzarella cheese, sauce, etc, etc. Whatever order is fine as long as you include everything.
Last layer is the noodles and top with sauce, mozzarella, parm and bake on 375 for about 20-30 minutes.
Recipe by
Julia's Child
at http://juliaschild.com/sandros-scrumptious-lasagna/