Hummus - Perfected?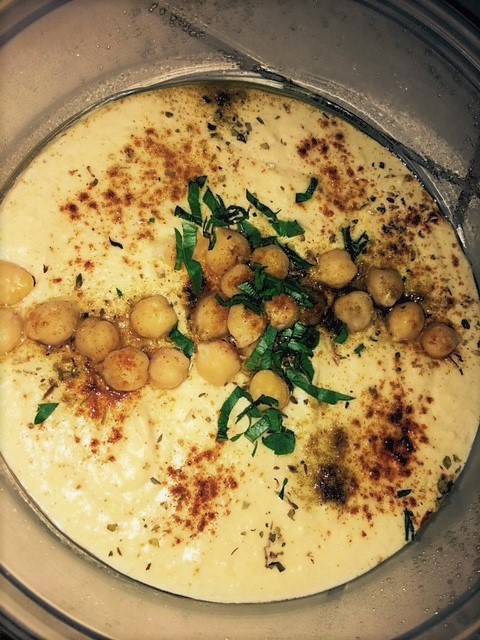 8 oz of dried chick peas
Cold Water
2 tbsp of salt plus 1 tsp.
½ tsp baking soda
¾ c tahini, room temp
3½ tbsp of lemon juice
1 to 2 tbsp of extra-virgin olive oil
1 tbsp chopped parsley
½ tsp of cumin
½ tsp paprika
Combine the chick peas and cold water. Enough water to have a least a couple of inches above the beans. These will expand. Let them soak overnight or for at least 12 hours.
In a large pot bring water and baking soda and 2 tbsps of salt to a boil. Drain the chick peas and add them to the pot. Reduce heat and cook until skins are falling off.
Reserve a cup of the boiling water, strain the chick peas, let them sit until water falls off and wait about a minute.
Set aside about a quarter cup of chick peas for garnish and put the rest in a food processor
Add the tsp of salt and start to blend.
Add the tahini and continue blending until very smooth. Us a spatula to get anything caught on sides of blender.
While blending add the lemon juice and cooking water.
Add to a bowl, garnish with the chick peas set aside, parsley, olive oil and paprika.
Serve with pita bread or fresh cut veggies like carrots or celery.