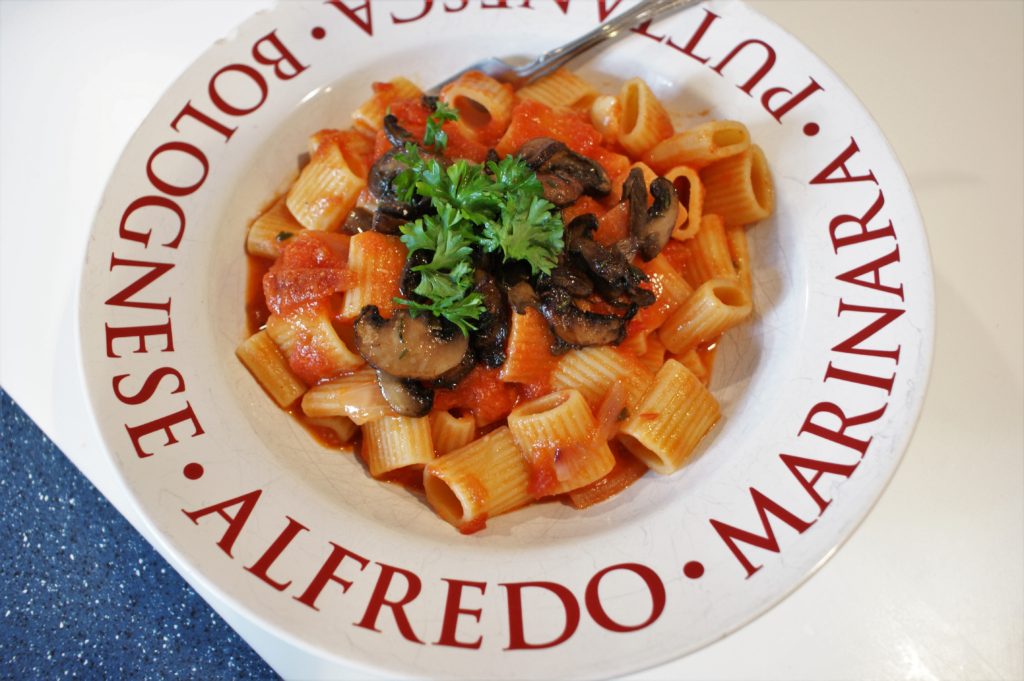 This ridiculously delicious rigatoni with mushroom marinara not only tastes great but it's quick and easy to make.  It is yet another dinner that won't hit the wallet too hard either!
You can probably tell by now that I like to go to my frig and pantry, scope out what I have and then put together a dish that we can enjoy in a half hour or less.  We're all pressed for time and sometimes we forget to plan or I know I do and it kind of makes me mad at myself but it's also not uncommon.  This is one way I can throw together dinner and at the same time have fun with it.  It's kind of a game with me.  It's also a way to avoid wasting what we already have in the house.  So try this out.  Cooking does not have to be a stressor in your life.  We already have enough stress without adding more to it!  Enjoy Life!

Ridiculously Good Rigatoni with Mushroom Marinara Sauce
This is an easy and quick dinner that is sure to please.
Ingredients
Olive Oil – 2 turns of the pan
Garlic – 4 cloves cut in half
Onion – red or yellow – ½ medium – sliced
Parmigiano Cheese – 3 Tbsps
1 15 oz Can of crushed tomatoes or canned fresh tomatoes
A dash of sugar
2 bay leaves
1 Tbsp of unsalted, sweet butter
Salt, Pepper and Garlic Salt to taste
A palmful of chopped parsley
Mushrooms – cremini or white
1 tbsp of fresh thyme
Instructions
In a large pot bring water and a generous handful of salt to a boil – don't add the pasta until you have the sauce prepared and simmering for about 15 minutes.
In a large skillet over medium heat add two turns of olive oil and the garlic and cook until the garlic turns golden brown, then add the sliced onions and some salt, pepper and garlic salt and caramelize the onions.
In another frying pan, add more olive oil and fry the mushrooms with thyme and pepper, don't season them with saltr until the end of the cooking time.
At this point add the crush tomatoes, bay leaves, sugar, butter, and more salt, pepper and garlic salt to the skillet with the onions.
Simmer the sauce for about 10 minutes and taste it again. It is important to make sure the acid of the tomatoes has been cut down and if not add a little more sugar.
At this point add most of the chopped parsley and the half of the Parmigiano cheese to the sauce.
Simmer for another 10 minutes, taste, add any salt, pepper, cheese, etc.
By now the pasta should be boiled – reserve one cup of the starchy water, drain the pasta, add the pasta right into the pan of sauce and about half of the reserved starchy water. Fold the pasta into the sauce, add a little more Parmigiano cheese and at the last minute add half of the chopped basil.
Serve in pasta bowls and top with the mushrooms and the rest of fresh parsley and parmigiano cheese.
Mangia