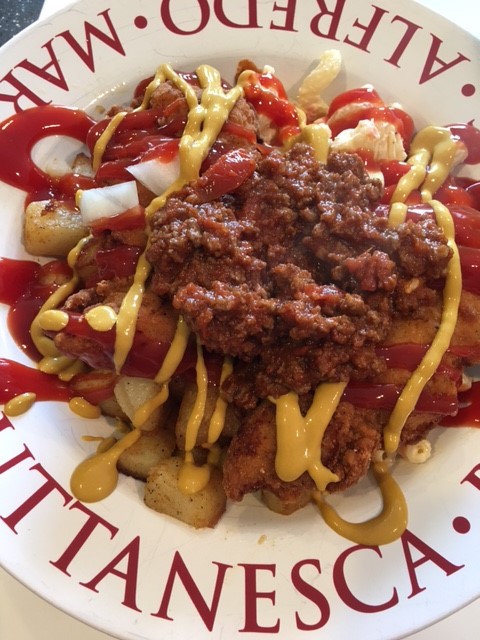 If you haven't heard about the Garbage Plate – here's a lesson that explains how it was famously invented by Rochester's Nick Tahou's Hots and it was even featured on various media sources like Unwrapped and The Huffington Post and read more of the history right here on Wikipedia.  It was also featured on Man vs. Food as have many other Upstate New York favorites!
However, tonight in the Mironti household, James Mironti, aka my son made the famous garbage plate and Nick Tahou would be proud.  You see, I think my boy is getting the itch to cook more often.  He is starting to show his passion for food like his mother and father.  He landed a little gig up at a new restaurant called  "Syracuse Hots" on the famed Marshall Street on the SU Hill and we are reaping the benefits here at home.   When he first started to tell me about it, I thought OMG I'm going to have to try this and look to be enjoying it.  Well, I did try it and I not only liked it but I loved it!
What's on a James Mironti Garbage Plate?  See the instructions below and give it a try.

The Garbage Plate
This is so filling and rich that you will hate yourself in the morning but it's well worth it!
Ingredients
Macaroni Salad
Baked Beans
Home Fries or French Fries
Chili Beef
Onions
Ketchup
Mustard
Your choice of: Chicken tender, hot dog, sausage, hamburger
Instructions
Place each of the sides in their own corner of the plate
Dice the onions and throw on top of sides
Place the chicken, dog, sausage of burger on the top of that.
Drizzle the ketchup and the mustard over the top
Top all of it with the beef.
Eat
Fall asleep
Repeat