In Memory of My Mom – Julia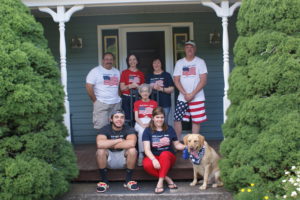 On September 8th my mother, Julia, the inspiration behind this blog and the inspiration in my entire life, passed away.  My mother was a fighter and as you will see by reading this eulogy I wrote and read at her funeral mass she fought her way through adversity, but to her it was what she was put on earth to do.  I hope you'll have an appreciation of what a beautiful person she was inside and out!
First of all, on behalf of Colleen, Ken, Sandro, Mallory, James and my Aunts Ettie, Dottie, and Betty, I would like to thank you for joining us in celebrating the life of our wonderful mother, grandmother and sister.
Where do I begin to talk about my mother?  As most of you know she was born into an Italian family in the hardest of times.  My mom had five sisters, one of which died as an infant and my Aunt Fran who passed away last month.  They didn't have a lot but they had each other.
After graduating from Cortland High School my mom quickly went to work at Payne Brothers in Cortland where she met a woman named Mary Kane.  She got to know the Kane family through Mary and found that she had a brother named James, or Jim, as his friends called him and he was one handsome, quick witted, charming Irishman.  She says she used to see him often at the Shamrock Inn and apparently, he noticed her beauty inside and out.  My mother was head over heels with my dad and always said he was the one and only love of her life.  I remember her always saying that she never remarried because no one would ever compare to him.
They married in 1953 and life was wonderful, they had Colleen and I, and bought a cute little house on Stewart Place to raise their family.  Life got even better when the house next door came available and my Uncle Larry, dad's brother, and Aunt Shirley moved in.  It was apparently for a different reason than what was planned.  Soon thereafter, in 1967, my dad passed away suddenly at the age of 43.  There was my mom at 38 years old left with two daughters 6 and 10 years old with life ahead.  A stronger woman even in this day and age with tons of resources would have folded.  Not Julie Kane.  She put her head down and forged ahead.  This is where I say life, a different way of life, really began for her.
And so I begin to tell you that story – the life of Julie Kane post 1967. And I have a lot to say and I don't care if the cemetery is waiting for us so don't start playing music to get me off the altar.
After my dad died, my mom, Colleen and I formed an incredible bond.  It was always just the three of us and I don't think you would find a mother and two daughters any closer than us.  My mother was the only parent I ever really knew and if God had to take Dad, we couldn't have been left in any better hands.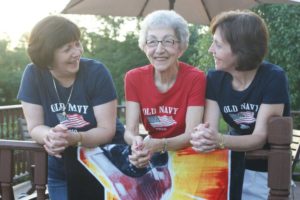 I don't think Colleen and I ever recognized how difficult this must have been for my mother because she never showed it.  There were no blips on the screen.   Not to say that she didn't have a very vast and loving family with sisters and brother-in-law's who helped along the way, but she was never one to ask for help.   She never put herself first, ever.  She was so unselfish.
My mother was devoted, courageous, brave, determined, loving, happy, a fighter, and strong in her faith.  My mother was ambitious and work horse and as my cousin Pat Kane said to me the other day a "Powerhouse." I can't think of a better word to describe her.  She worked two and three jobs at a time to provide a wonderful life for Colleen and me.  She sent us to St. Mary's School and proudly paid every penny of it without assistance.  I'm sure that money could have been used for other things but she sacrificed for us to have a catholic education because she knew how important that was to my dad.  She made sure like other families we took vacations and trips – big or small. She made sure both of us had good college educations and stood proud when we graduated because she did it all on her own without any hand-outs because she was born in the era of the greatest generation.  Sandro reminded the other day how proud and happy she would look when someone would complement Colleen and me with the career paths we took in nursing and the success we have had.  But it was because of her we had such success.  There's a quote I saw that nails it "Our mother worked too hard for us not to be successful."
My mom always told us she loved every job she ever had.  But I think the job she loved the most was after she retired to become the Spoiler in Chief and CEO of Grandma, Incorporated, babysitting her two grandchildren Mallory and James.  She loved these two kids more than she loved life itself.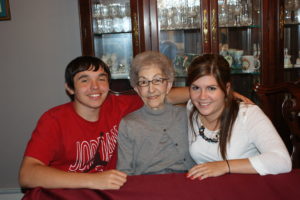 My mom and her sisters.  After I left my position at the hospital I took a year off to spend with my mother.  We got her through an illness and a heart surgery at the time.  This is when I really learned how much she and her sisters served as lifelines and entertainment for each other.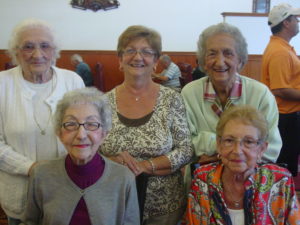 Most of their interaction was through the telephone.  As my cousin Rick said at my aunt Fran's funeral any government agency would have killed for the Tremacco sister's phone tree.  Homeland Security had nothing on these girls!!!   At my house, it would start at 9am.  A call would go out to Betty.  Mom would say, Any news?  And I'd think it's 9am where would Betty source news overnight.  But apparently Betty has an Associated Press feed at her house.  Because there was news.  And then awhile later, Aunt Fran would call and I'd hear, "Did you talk to Betty?" And then we'd hash over all of that.  And then a call would come in or go out to Aunt Ettie and I'd hear, "Did you talk to Fran?" and in between we would be sure someone would get the news down to Aunt Dot in Tennessee.
That was just the morning.  By the time the afternoon rolled around and the phone rang I used to want to play the music news stations play and hold up a sign flashing BREAKING NEWS, BREAKING NEWS!    But seriously, the love and support and fun my mother and aunts had is one that everyone should envy.
However, my mom and her sisters were far from perfect.  After they were all retired they used to take these day trips.  My mom would say "Aunt Bet and Uncle Bob are taking us to the Mall today."  One day when we kids realized they never brought home any packages from these all-day shopping trips.  They were BUSTED.  They were really going to the casino!  But she loved it and I am so glad she finally had fun for herself.
Her IN-LAWS – what can I say.  Dad left my mother to endure his big Irish family and all of their Kane-isms and she did, AND she loved it.  She formed a great friendships with dads sisters. She talked to Aunt Mary daily until her passing.  She absolutely adored her brothers-in-law Rollie and Larry having great fun teasing back and forth with them. And she enjoyed their wives – her partners in crime.  She and Aunt Amy used to go around to the stores and come home with unexplained dents in the car.  We think they were going four wheeling.  And Aunt Shirley and she enjoyed porch talks down on Stewart Place where they also used to steal garlic out of the neighbor's gardens. True Story!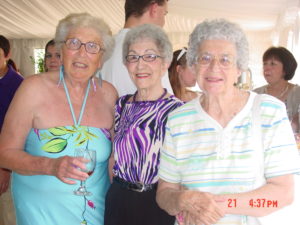 My mother loved all her nieces and nephews on both sides and they loved her.  She was known as Aunt Do. I recall when they wanted a place of refuge, or someone to get them out of trouble who would they turn to – Aunt Do.  She was there for them constructing excuses and cover-ups that even the FBI wouldn't be able to unfold.
In reflecting on mom's expectations for us.  We didn't get away with much in the Kane household.  Back when we were going out on the town the rule was to be home by 2AM sharp. Mom ALWAYS waited up for us so she was at the door when we arrived.  Typically, we would invite people over to the house to carry on having fun. Colleen, our friends and usually a few female cousins thought all the guys wanted to come too because of our beautiful looks and sparkling personalities.  We'd find that the guys migrated to the Kitchen where mom was making her famous pizza and laughing with all of them.  It was at this point we realized that it was SHE they came over for and not us.  She loved those nights and to this day the guys are still talking about it.
Our husbands.  Mom loved her son-in-laws as well and they loved her.    How many son-in-laws could live with their mother-in-laws? Every year she took a special trip with the two of them to New York City where they enjoyed an Italian festival eating and drinking their way through New York.  Ken was her first and Mom enjoyed having great snack parties with Ken on Friday afternoons after work.  He was the calm for her in a world of Italians.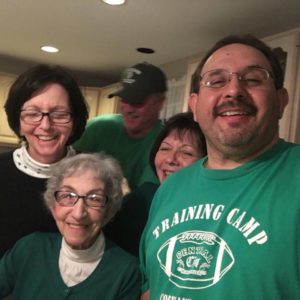 Then came Sandro.  Sandro knew my mother before he knew me.  They worked together at Commando's and she taught him to drive and sold him his first car.  They love to talk recipes, and groceries, and all things Italian.  He always reminds me that he married me not for money but for my mother.  I hope he sticks around now.
As you could see I could go on for hours about my mother, but I want to leave you with some final thoughts and tidbits:
She was a fantastic cook.  She enjoyed good food and her snacks and her chocolates. She was creative – our Easter Baskets and wrapped Christmas gifts could have been featured in the Martha Stewart Magazines and the same with the cakes she decorated.    She of course was an avid SU fan and you would find her standing in front of the TV jumping up and down cheering them on. She enjoyed talking politics and this latest administration sure gave us a lot of material to talk about.  She had an entrepreneurial spirit, loved watching Shark Tank and gave me great feedback on every one of the 100 business ideas I've come up.
She and I would watch the Food Network for hours and were often blamed for other family members not being able to lose weight because we made them hungry watching food on TV all day.
The grandkids got my mother into technology.  She loved getting on Facebook and she loved texting all of us.
And Finally,  her favorite past time was scratching her lottery tickets!
She was such a big part of all of our lives every day – all day.
I think most importantly in the end please remember Julie Kane as someone who never had it easy, but never once complained.  If you look at her life in pictures you'd see a woman who always smiled when she had a lot to frown about. She was loved by so many and returned that love twofold.  She is remembered as someone who would quickly become your friend and give you the clothes off her back when she didn't have things for herself.  Colleen and I will always remember her selflessness to give us anything we ever needed.  Her final wish was that her kids and grandkids continue to strengthen the bond between us as that is the legacy she has left behind – STRENGTH AND FAMILY!
On her final night of life, as nurses it was so hard for Colleen and me to determine if she was ever in pain or felt really sick. So typical of the way she could mask the challenges she was handed after dad passed away. She never wanted any of us to worry about her.  The final words I personally overheard her speak were to my son James.  She said to him "don't worry, I'll be better tomorrow, tomorrow will be a better day," and that night she closed her eyes and fell asleep.  And tomorrow was a better day because my mother could finally rest.  Thank you, Mom, for all you've done for us.  We love you.