Garlicky Shrimp Scampi – My Mom's Favorite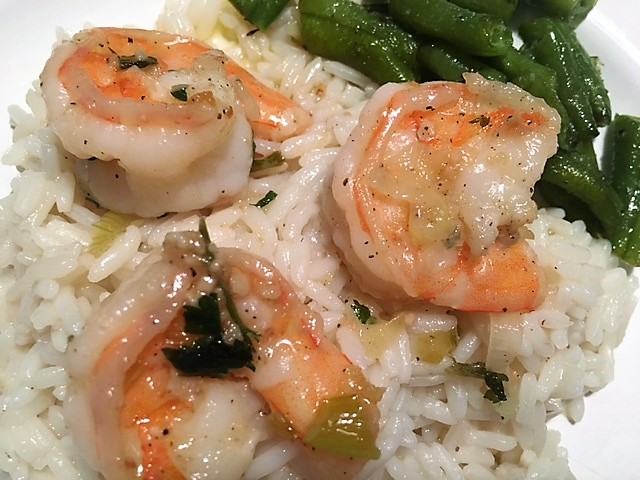 Most everyone knows my mom passed away last month.  It has been so strange in the house.  I guess I really have an empty nest now.  When James went off to college I still had my mother to take care of.  Well let's be real up until the last few months she took care of us! 🙂  My mom loved to cook and she definitely inherited the great skills of my Grandma Sue.  She also worked in restaurants over the years and learned some great tricks of the trade.
We all miss mom so very much.  It is still very raw and from what I understand it will be for a very long time.  The day she died I was at work and although we expected that the day was coming I don't think we really expected it to be the day it was.  When I got that text from Colleen that said "call me" I knew what I was going to hear.  And I did and it was the strangest feeling I've ever had in my life.  I felt like I was floating around my office and everything was in slow motion.  It was like an out-of-body experience.  The drive from Syracuse seemed like it took hours as I scanned over the memories of my mother – the good times, the laughter and the thoughts of what an amazing women she was after my dad died.  And then entering the house to see my Aunt Bet and Aunt Ettie who just lost their other older sister 5 weeks earlier and my sister and husband standing there at a loss….. And the group hugs….And finding the strength from the love of family.
With all that said, I find comfort in food.  It's always been the place for me through stressful jobs and stressful times.  I think it did the same for my mother.  You could always find my mother in the kitchen, whether it be home or helping someone else at a family party she was the first and last one in the kitchen.  I would say one of her favorites to eat was seafood especially shrimp and lobster.  I had made shrimp scampi for her quite a few times over the last several months because I knew how much she loved it.  This recipe was my quick go-to.  I used to love to hear her compliment my cooking because to me she was the greatest of cooks.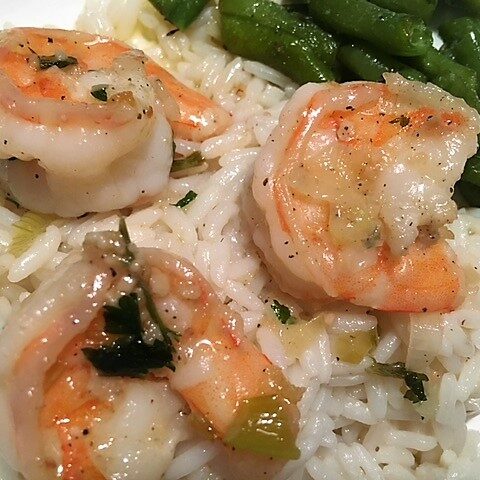 Garlicky Shrimp Scampi - Mom's Favorite
This is really a quick and easy recipe.
Ingredients
1# fresh shrimp - peeled and de-veined (I prefer Jumbo which are 21/25 count). You can also get the frozen bag at the local supermarket.
1 stick of butter
1 tbsp. of olive oil
4-5 cloves of garlic - minced
Salt
3 scallions - sliced
A good handful of chopped flat leaf parsley
1 lemon
Instructions
In a large skillet over low heat melt the butter and then add the olive oil.
Mince the garlic and slice the scallions and add to the skillet. Saute for about 8-10 minutes on medium heat.
Clean and de-vein the shrimp. If frozen thaw them according to directions on bag.
Add the shrimp to the skillet and cook on medium heat. Do NOT leave the shrimp as when they start turning pink you need to turn the over to cook on the other side. When the other side is pink take the shrimp off the burner. If you overcook them they will be rubbery.
Zest the lemon and add to the skillet as well as the juice of the lemon. Throw the parsley over the top.
Serve over rice or angel hair pasta.