One of Julia's (or Mom to me) Favorites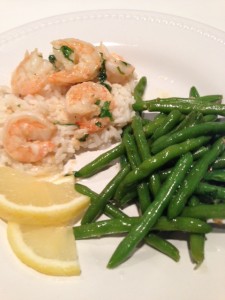 My mother loves good food, but who would know to look at her. She always has had a healthy appetite, but she is one of those women that other women love to hate because she has always had a "girlish" figure and could eat anything she wanted. She is especially fond of seafood and shrimp and lobster are high ranking on her list.
This meal is very easy to prepare and I promise you that you can make it in less than an hour. I would also say it ranks up there in being a healthy meal too! What's not to love about easy and healthy meals?!
Shrimp Scampi with Rice & Fresh Green Beans
Ingredients
For the Shrimp
Shrimp -
Butter
Garlic
Flat Leaf Parsley
Lemon
Salt and Pepper
Garlic Salt
For the Beans
Olive Oil
Garlic
Salt and Pepper
Flat Leaf Parsley