Comfort Food and Birthdays!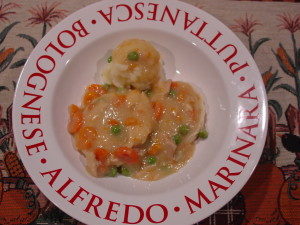 Isn't fall a perfect time to start eating warm comfort food especially as the temperatures cool down in the Northeast where I live.
It just so happens that tomorrow evening for dinner I will have my most favorite comfort food of all!  Yes, for those of you who know me well you know it's Chicken and Biscuit!!  It is tradition in my family that my mother makes each of us our pick for our birthday dinner and my pick is chicken and biscuit.
Every year I pick this same favorite over and over.  The rest of the family sometimes changes up his or her pick but not Denise!  I can't wait to savor this dish with a side of smooth and creamy mashed potatoes!  Yummy and mmmm so good!
Stayed tuned as I will post a picture and the recipe tomorrow, but for tonight I will dream about this dish.
That's what birthday's are all about in my family – good food warming our tummies and our hearts!
Here's to 50 more birthdays! 🙂