My Birthday Dinner – Mom's Chicken and Biscuit
On October 1st of every year I start reminding my friends, relatives, and co-workers that it is my birthday month!  For those of you who are with me all the time you know I triple love my birthday!!  Oh yes even this year when I was turning the BIG 5-0, but as I said it's better than not turning 50!
One of the biggest reasons I love my birthday is because my mother makes my favorite birthday dinner every year- chicken and biscuits.  Hard to believe a little Italian woman would make such a dish, right?  Hey, I can have Italian cooking any and every day of the week, but this dish is the start of a season of comfort foods.  Of course it was my "Grammy Kane" who taught my mother how to make this, and I've got to say she did a darn good job teaching her daughter-in-law some down home cookin. 🙂  She wasn't from the south but was an Irish woman who sure could cook as good as my Italian grandmother but with a different flare.
On the night of my birthday when I put that first bite into my mouth it was like heaven!  OMG is it ever good!  So here is the recipe.  Give it a try:
Mom Kane's Chicken and Biscuits (Served Up Especially Great on Denise's Birthday)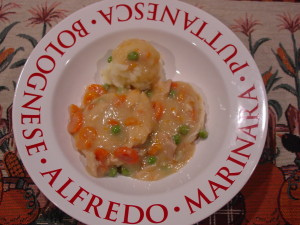 Ingredients:
 1 qt of chicken broth and enough water to submerge the chicken
1 whole Perdue chicken or 3 large Chicken breasts on the bone
 1/2 bag of  frozen peas and 1/2 bag of frozen sliced carrots
3 celery stalks with leaves
1/2 medium onion
3 Tbsp of corn starch and about a 1/4 cup of water
Directions:
In a large soup pot boil the chicken for about 3 hours on medium heat in  water and chicken broth with the celery stalks and half of medium onion.  When done take the chicken out of the pot, season with salt and pepper and set aside to be added later.  Also take out the onion and celery stalks which can be discarded. Taste the broth to make sure it has enough salt and if not salt to your taste.  Thicken the broth by taking about 3 cups of the chicken broth to a smaller pot.  Take 3 tbsps of corn starch and dissolve with the about a 1/4 cup of water making sure it is a thick consistency.  Add this to the 3 cups of chicken broth.  Whisk the broth and corn starch mixture until thickened, once thickened add this mixture with the rest of the broth in the large soup pot.  If this is not thick enough you can add more corn starch mixture or thicken with Wondra.  Once completed add cut or pulled  boiled chicken to the thickened broth along with the peas and carrots.
Serve over biscuits (follow any recipe) and a side of mashed potatoes.  Oh so good and just warms my heart and soul. 🙂