Cinco de Mayo – Open Faced Taco
I can't believe it's May 1st already!  Could be because our weather is having a hard time turning into Spring.  Of course after a mild winter Mother Nature is making sure we remember her!
May is an exciting time of year for all of us but in my family we enjoy celebrating my son and niece's birthday.  Yes they share a birthday which was always a challenge when it came time to blow out the candles, but we learned to just get two cakes. 🙂
Now let's not forget it's Mother's Day and Memorial Day in May when we get to break into all those great barbecue recipes. I'll be working on some of these so stay tuned!  I can't wait to see what's new and fresh out there.
So back to the recipe of the day.  I know this is a mostly an Italian recipe blog but I have to re-post an old favorite which is a Rachael Ray knock-off.  I get a lot of inspiration from RR.  Here is a family favorite that I do every Cinco de Mayo which is Thursday so get to the store and get all of what you need!  Fiesta – Siesta!!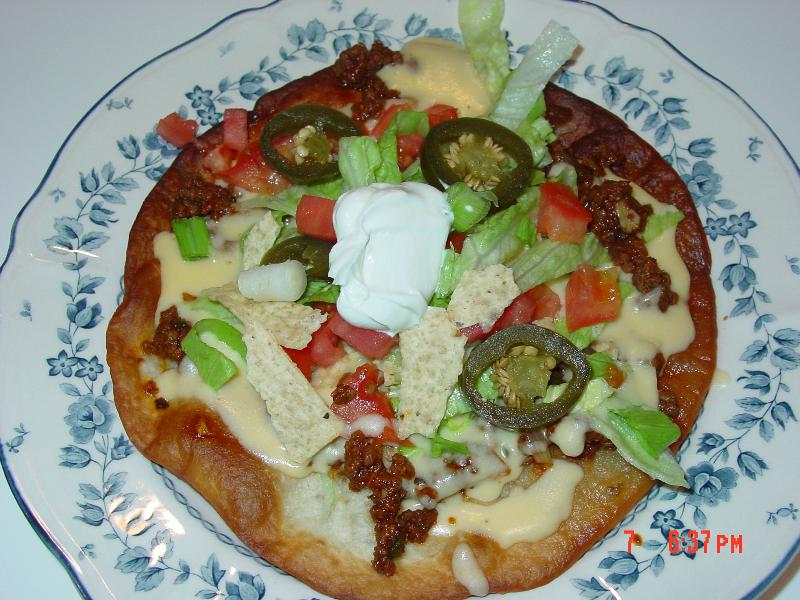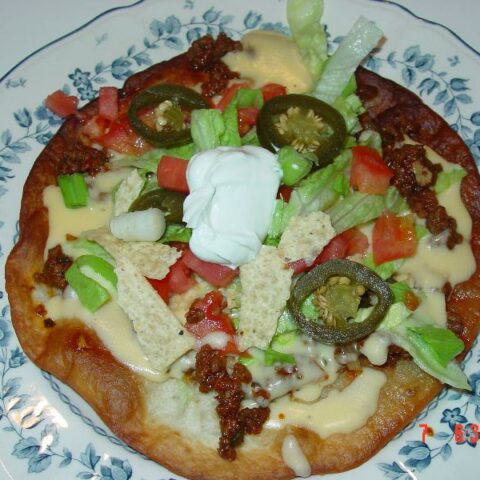 Cinco de Mayo - Open Faced Taco
Ingredients
4 Flour or Corn tortillas
1/2 pound of ground beef (85% lean)
1 small onion - chopped
2 cloves of garlic - chopped
1/2 tbsp chili powder - (add or subtract according to your desired heat)
1 tsp cumin
1 tbsp tomato paste
1/4 c beef stock
2 small tomatoes
1 c of shredded lettuce
3 scallions - sliced
1/4 c pickled jalapeno pepper slices
1 cup shredded cheddar cheese
1 tbsp flour
3/4 c milk
Olive Oil
Vegetable or Corn Oil
Salt & Pepper
Sour Cream
Nacho Chips (optional)
Instructions
Chop the tomatoes, onion, scallion, and shred the lettuce and set aside.
In a medium skillet, drizzle small amount of olive oil on medium high heat. Add the beef - break it down into very small pieces. Salt and pepper the meat and brown it for about 5 minutes. Add the chopped onions and soften. Then add the spices - chili powder and cumin. Stir in the tomato paste and slowly add the beef broth, lower the heat and simmer.
Heat a thin layer of vegetable or corn oil in a large skillet. Fry the tortilla's one at a time until golden crisp. Place on a paper towel and salt them lightly.
Heat and melt the butter in a small sauce pan, whisk in the flour for about a minute. In another small sauce pan warm the mild and then add the milk to the roux and continue whisking until the sauce turns thick, add the cheddar cheese and whisk for another 2 minutes.
Place a tortilla on a dinner plate, put beef on the tortilla spreading it evenly around, cover with the cheese sauce, and then pile on the lettuce, tomatoes, scallions, jalapeno peppers, sour cream and if so desired a few crushed up nachos.
Serve with a side of mexican rice and/or refried beans.
Fiesta Time and then Siesta Time! 🙂