Julia B's Italian Baked Pork Chops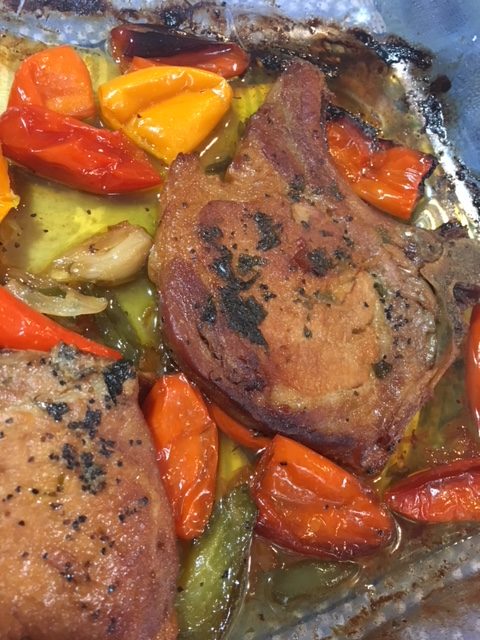 When I was a child I did NOT like pork chops. I was out of luck because my mother (Julia B as in Beatrice) loved them. At our dinner table you pretty much ate what was put in front of you. Lucky for me my mother was an awesome cook so 99.9% of the time it wasn't an issue. Over the years I think mom perfected her pork chop recipe to the point of creating what you see up in the picture. Right up until about 6 months before her passing she was still getting around the kitchen like a professional chef! Over the years we all had our favorite requests we'd ask her to make us. I think she was quite surprised when I would request pork chops. But it was because her chops came out as tender as butter and so very delicious! They fell off the bone!!
After my mom passed away I tried my hand at pork chops.  The first time – they were so so, but I recently tried it again and channeled my inner-Julie.  BINGO – perfection.  These Italian seasoned, slow baked, olive oil and garlic laced sticky little porkie's are to die for.  Mom usually added in sliced green peppers, but I took it up a notch to these mini sweet peppers and added in some red and yellow onions.  Sandro said if he closed his eyes he would have thought Julia B herself made them!  We miss Mom Kane/Grandma and we sure do miss her cooking!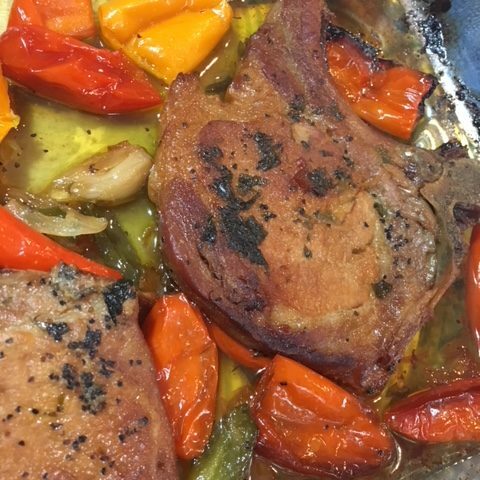 Julia B's Italian Baked Pork Chops
These slow-baked Italian Pork Chops will melt in your mouth.
Ingredients
4 Bone-in center cut pork chops - the thickness is to your desire
1-2 Green bell peppers - sliced or Mini Sweet Peppers 10-12 (whole)
1 Red or Yellow Onion - sliced
Olive oil - cover the bottom of the baking pan and another 2 tbsp to frying pan (see below)
4 cloves of garlic - peeled and crushed
Salt, Pepper and Granulated Garlic - to taste
Fresh Italian Flat Leaf Parsley - chopped - about a half cup
Instructions
Preheat oven to 300 degrees
To a hot large frying pan, add the olive oil.
Dry any moisture from the pork chops.
Season one side of pork chops with salt, pepper, garlic powder.
Scatter the parsley on one side of the pork chop.
Fry pork chop parsley side down.
Season the other side of pork chops with the salt, pepper and garlic powder and add the rest of the parsley.
Fry until each chop is slightly browned.
In a large baking dish - I used a 9x11 - add olive oil, garlic gloves and peppers and onions. Season the peppers and onions with salt, pepper and granulated garlic.
Transfer the pork chops to the baking dish.
Cover tightly with foil.
Leave the oven at 300 degrees - bake the pork chops for at least 2 hours - do not touch them!!
After two hours take the foil off and bake for another 15-20 mins.
Serve with roast potatoes and your favorite veggie.
Savoir every minute of them!