Oh Baby Ravioli with Brown Butter and Sage Sauce
Another lazy Saturday afternoon as summer winds down.  Today was a waste of time as I sat around engrossed in the coverage of Hurricane Irene!  How many times can one watch some foolish TV reporter trying to brace himself in the whipping winds and rain?  I hate to admit that was me today sitting there chuckling each time the reporter was flashed up with big breaking news!  However, I am not making light of a very serious situation and I hope all of my friends and relatives in those areas remain safe.
So when 4:30 came around I realized I didn't have dinner planned I started to scan the refrigerator contents in my mind hoping I could concoct something out of nothing!  I remembered I had some fresh sage and BINGO I also had some ravioli in the freezer.  Okay I've got it!  Brown Butter and Sage Ravioli it is.  I love when that happens. 🙂
Before I give you the recipe I want to dedicate this post to my Godmother and Aunt Irene.  For those of you who don't know she was my Dad's sister.  Aunt Irene was the 4th child and 4th girl of the Kane Seven.  My Dad was the next child and of course the first born son and he lived up to that very important role.  There were two more sons after him to round out the Kane Seven.
Aunt Irene was a fabulous cook and I used to love, love, love her Thanksgiving dinners.  She definitely took after "Grammy Kane" when it came to her cooking skills.  And the other thing about Aunt Irene – like Hurricane Irene and any good Irish woman she sure packed a punch and you definitely knew when she was mad.  🙂  Nothing wrong with that!
Ingredients:
1 lb of frozen ravioli or fresh if you are real ambitious!
1 stick of sweet unsalted butter
8 fresh Sage leaves – chiffonade – meaning cut in long strips by rolling leaves and cutting across the leaves
1/2 red onion – sliced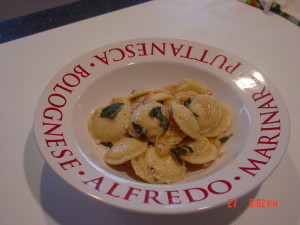 3 garlic cloves – minced or grated
1/4 c of chopped walnuts
1/2 c Parmigiano cheese
1/2 tsp of lemon zest – zest means to grate the clean lemon rind with a cheese grater
Salt and Pepper to taste
Directions:
Bring a pot of water to a boil and add a generous amount of salt to the water – add the ravioli and bring to another boil.  In a large skillet over medium low heat melt the butter and add the grated garlic, when the garlic becomes golden brown, add the onions and a dash of salt and pepper.  When the onions become translucent, add the sage and cook for another 3 minutes.  At this point you should notice that the butter is browning – when you note this immediately take off the heat and then add the walnuts and lemon zest.  By now the ravioli should be boiled.  Drain the ravioli and add right into the skillet, mix well and the add half the Parmigiano cheese.  Use the rest of the cheese for those who want extra to add at the table.  Mangia! Enjoy!