That's Not Italian! Mexicani Vegetable Chili
I'm often accused of always sharing Italian recipes. Well I'm not ashamed to say that I think Italian food is the best-est and that I've learned a lot over the years from grandmothers, mothers, and others, but okay I give. Actually I like to cook Chinese food because I refuse to eat take out Chinese, and I like to cook Mexican food as you will see. So here's something a little different I whipped up in my head one night on the way home from work. It's easy and it's good for you! This will take 10 minutes to prepare and can cook all day.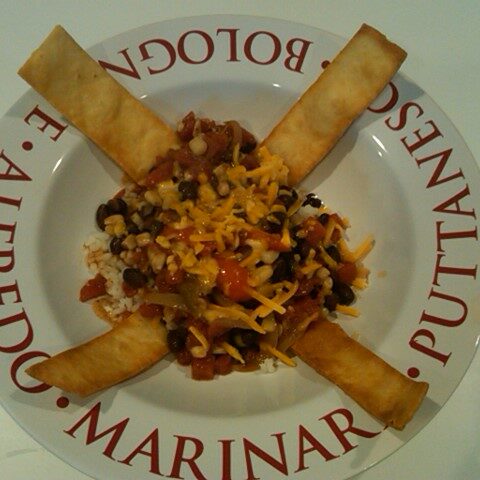 That's Not Italian! Mexicani Vegetable Chili
Ingredients
1 can of black beans
1 can of corn or feel free to use frozen or fresh corn of equal amounts
1 can of chili beans
1 can of diced tomatoes (14.5 oz)
1/2 can of crushed tomatoes (14.5 oz)
Chili powder to desired heat
Salt and Pepper to taste
1 TBSP sugar
3 sliced scallions, sour cream or shredded cheddar and tortilla chips for topping
Flour Tortilla's
Rice - follow directions on the box for the amount you want to make.
Instructions
In a slow cooker drizzle the bottom of the pot with olive oil, add the beans, and a couple shakes of salt and pepper, add the corn and a little more salt and pepper and the sugar, fold in the diced tomatoes and crushed tomatoes and stir altogether. Add chili powder - go light at first because you can always add more after this is cooked, but you can never take it out.
As I said this will take you 10 minutes - I prepare it before I leave for work, put the slow cooker on low, and when I arrive home dinner is done. It's great for hectic schedules like mine.
Remember before serving, taste it making sure there is enough salt, pepper and chili powder. Also if it seems too acidic you can add a little more sugar. Serve over rice and top with the sour cream and/or cheddar cheese and scallions. If you so desire you can fry some flour tortilla's and serve them on the side. Enjoy!

Oh and take note – I still serve this in an Italian pasta bowl 🙂
P.S. With Cinco de Mayo coming up stay tuned for a fabulous recipe in the next couple of weeks coming out in a long awaited newsletter. This was a show stopper when I served it to the family and I can't wait give the recipe to you!