I believe 2015 is going to be a great year.  I mean just look at 2015 it even looks cool!  I remember when James started kindergarten and they announced his class as the Class of 2015.  I thought OMG that's so far away.  Well OMG here it is and my baby boy will be graduating this year and heading to Syracuse University.  I couldn't be happier or more proud.  Last night we headed up to the Carrier Dome aka "Loud House" and it was 20 degrees with the wind whipping just like I remember it some 30 years ago!  At that moment I asked James if maybe he wanted to go to Florida State instead?  Emphatically he said NO!  He is sold to be Forever Orange like his Mom!  I'm bursting with Orange Pride!
So to start off the New Year I will carry on another tradition in my family and make some lentil soup.  Here is a repost from one of my newsletters and the story that goes along with it.  Enjoy and have a safe, happy, healthy and lucky New Year!
Every year on New Year's Day my Italian grandmother used to insist we go to her house to eat some Lentil soup.  As a child I would do so because she used to tell me it would bring me luck and wealth all year.  Of course, as an Irish kid as well who wouldn't like a little luck!  Lentil soup doesn't look that inviting but it tastes good, is good for you, and according to what Grandma Sue used to say it brings you a little bit of luck.
Who can't use that?!  My mother carries the tradition and James is following suit; he loves Grandma's lentil soup too. In fact he calls it "Grandma's Good Luck Soup!"
Try some with your family on New Year's Day.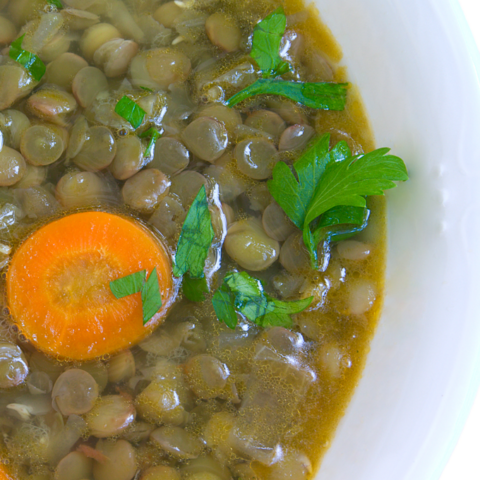 Grandma's Lentil Soup
Ingredients
1/2 c celery, finely chopped
1 sm. onion, finely chopped
2 med. carrots, finely chopped
2 Tbsp. olive oil
3 cloves of garlic
1 tsp. dried oregano
1 bag dried lentils
Salt, Pepper and Garlic Powder to taste
1 Bay Leaf
4 qts of water
Instructions
In a large soup pot add the olive oil and grate in 2 cloves of garlic and saute the onions, celery and carrots with a touch of salt, pepper, and garlic powder over medium heat. Fry until done. While that is cooking, rinse the lentil beans and set aside. Add the water to the veggies and then add the lentil beans. Cook over medium heat and add more salt, pepper and garlic powder to taste. Add in the bay leaf and the other garlic clove (whole). Continue to cook until the lentils are soft.

Eat, enjoy, and may the luck and wealth be with you!
Happy New Year!
From my family to yours – have a very happy, healthy and prosperous New Year!