Creamy Tomato Mac and Cheese Soup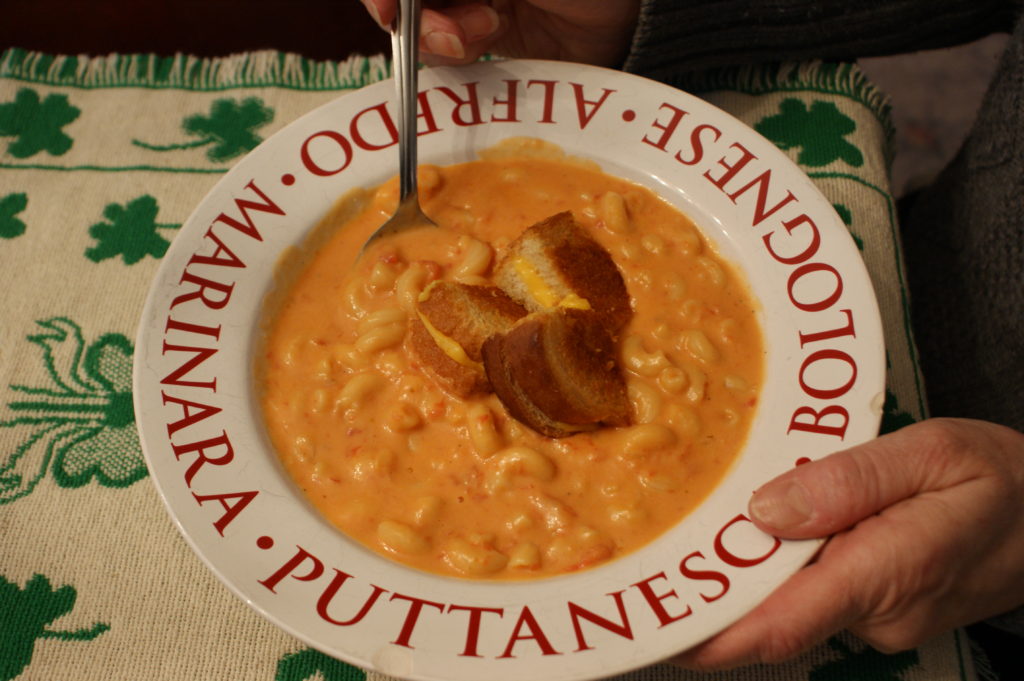 Staying with the soup theme this week in order to warm the tummies and the souls with some comfort food during this wild Nor'Easter blowing over the region I came up with this Creamy Tomato Mac and Cheese soup.  I remember when I worked at the hospital the lovely ladies in the coffee shop used to serve something similar so I put my thinking cap on and came up with a recipe.
This soup tastes like satin in your mouth with the melted sharp cheddar mixed among tomatoes and little elbow macaroni's.  I also thought I would turn it up a notch and serve grilled cheese croutons!  OMG!! If you like cheese you're going to want to give this a try!
According to Mom (AKA Julia) and Sandro it was delightful and hit the spot.  If I must say so myself it was very good and brought back some fond  and funny memories of eating in the coffee shop!! The "Kane Girls" were not exactly the favorite customers in the coffee shop because we each had our preferences and it goes something like this:  "can I have my bagel toasted well with my butter on the side and could I have an extra plate too" and "could I have my Pepsi in a plastic cup?" or "instead of the turkey and ham on the chef salad I like bacon crumbled on the top."  You get the picture but really the ladies in their pink coats or whatever color they were learned to love us and all of our Kane-isms!
Enjoy this soup it is a great twist to your tomato out of the can!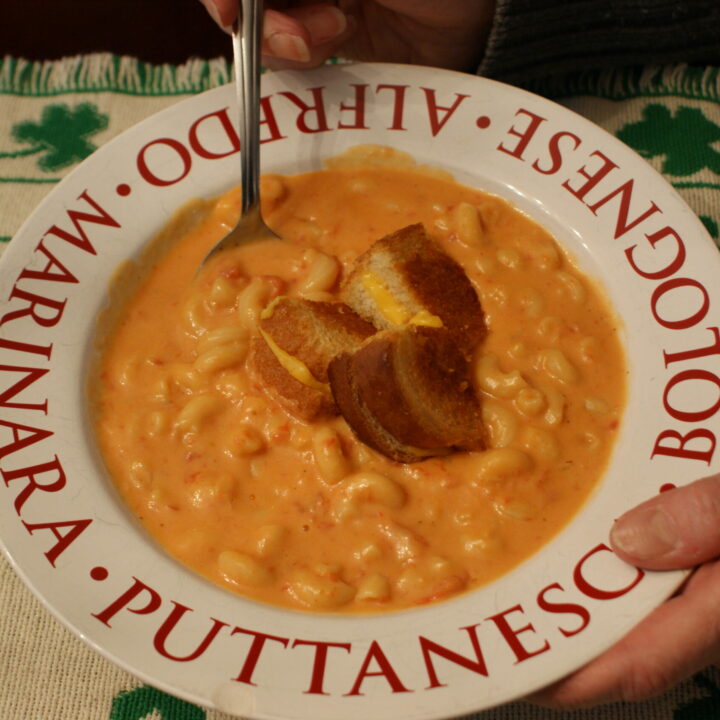 Creamy Tomato Mac and Cheese Soup
Prep Time: 20 minutes

Cook Time: 30 minutes

Total Time: 50 minutes

This is a burst of cheddar and tomato flavor! It's very filling and warms you right up!
Ingredients
1 med onion - diced
2 garlic cloves - peeled and smashed
Butter - half stick
8 oz of sharp cheddar cheese - shredded
28 oz can of diced tomatoes
1 tbsp olive oil
32 oz chicken stock
1 pint of half and half
8 oz elbow macaroni
3 tbsp flour
2 tsp sugar
Salt and Pepper to taste
Garlic Powder and Garlic Salt - to taste
Bread, butter and american yellow cheese to make grilled cheese croutons.
Instructions
In a large dutch oven pot - melt the butter and add the olive oil, add garlic and saute until golden brown.
Add the onions and salt, pepper, garlic powder and garlic salt - saute until starting to soften.
Add the flour and stir, allow to cook off for a couple of minutes to remove flour taste.
Add the chicken stock slowly and whisk as you add it.
Add the half and half and continue to whisk.
Allow to come to a slow boil and add the shredded cheddar cheese.
Add more seasonings as needed.
Blend half of the diced tomatoes with a the juices and the sugar until pureed and add to the soup.
Blend the rest of the diced tomatoes but do not puree - leave them in smaller chunks and add them to the soup.
In a separate pot boil water and add a good amount of salt to boil the elbows however leave them fairly hard, drain and add to the soup.
Simmer until ready to eat.
If the soup thickens too much add some milk to loosen it to your preference.
Make the grilled cheese sandwiches but cut them into large crouton size and top the soup with them.
Enjoy!