Sandro's Scrumptious Lasagna
Sandro's Scrumptious Italian Sausage and Meat Lasagna!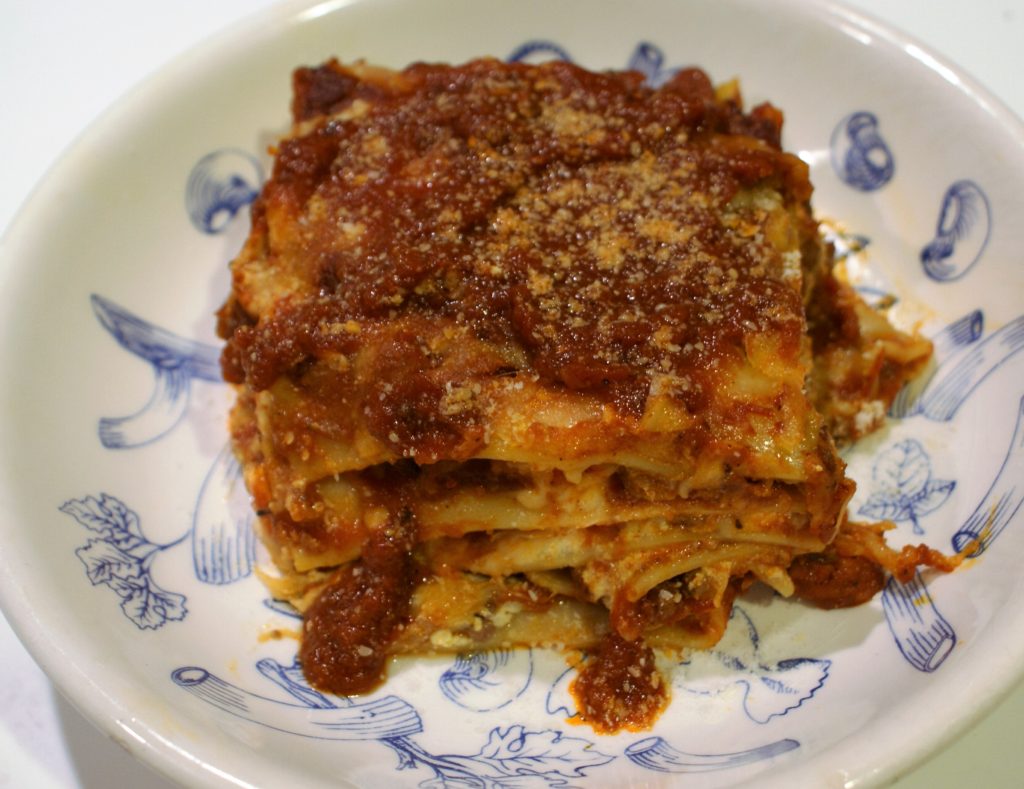 We had a takeover in the kitchen last night and am I ever glad because this Sandro's Scrumptious Lasagna was so good my mother and I could hardly breathe because we ate so much!  My mother-in-law Gina is the Queen of Lasagna but her oldest son put a nice twist on her traditional lasagna.  Of course, Gina makes hers with homemade noodles that melt in your mouth.   However with our busy schedules today and time constraints it's not practical to do that on a weeknight.
This lasagna is layered with meat sauce and Italian hot sausage with creamy ricotta cheese and mozzarella and Parmesan Cheese and Sandro's sauce that added bold flavor.  You can make this lasagna in a snap if you have everything on hand. If you're not into hot sausage, use sweet but the sausage definitely adds flavor intensity.  If you're waiting to come to my sauce making class and can't make your own then you can always cheat and use jarred sauce.  It is actually a sin for me to write that statement and my grandmother is swearing at me from above, but if making sauce isn't your thing just do what works!   One of these days I'll schedule that cooking class! 🙂  You can even make this the night before and put it in the frig until you're ready to bake it.  You may need a longer cooking time but otherwise dinner is ready and waiting for you.  Enjoy!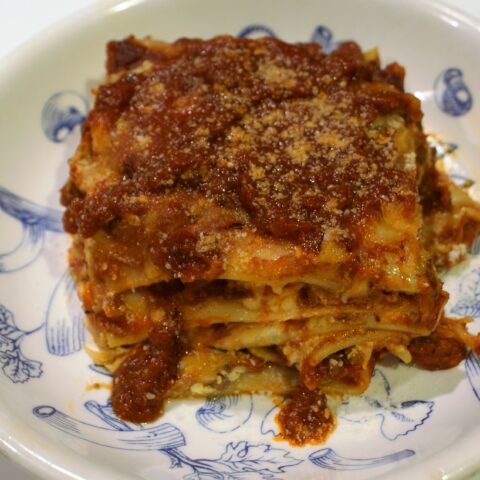 Sandro's Scrumptious Lasagna
This lasagna is easier to make than you think and it's packed with bold flavors yet will melt in your mouth with it's creamy ingredients!
Ingredients
Sauce - make your own or purchase a top of the line sauce
Ricotta Cheese - whole milk - 1lbs
1 large egg
Lasagna Noodles - 1 box use amount according to how much lasagna you make
Hot Sausage - cooked and sliced or crumbled
1 lb of ground beef, flavored with salt, pepper and granulated garlic or minced garlic and fried
Mozzarella cheese - shredded
Parmesan Cheese
Instructions
In a large pot with boiling hot water and a generous amount of salt, boil the lasagna noodles until al dente meaning still having a bite to them or still somewhat uncooked.
Drain the noodles and put them on a clean dry towel, single layered.
In a large baking dish, coat the bottom with olive oil or cooking spray.
Put the ricotta cheese in a mixing bowl and add the egg, salt and pepper and garlic powder, parm cheese and fold into the ricotta.
Put the sausage in a baking dish with olive oil and bake until crispy golden brown.
Simmer the sauce on the stove and then add the sausage and simmer.
In another frying pan cook the ground beef adding salt, pepper and garlic powder until browned.
After the sauce simmers for a bit take sausage out slice or mash into pieces.
Layer the lasagna accordingly: Sauce, Noodles, Meat, Sausage, Ricotta Cheese, Mozzarella cheese, sauce, etc, etc. Whatever order is fine as long as you include everything.
Last layer is the noodles and top with sauce, mozzarella, parm and bake on 375 for about 20-30 minutes.