All American Food and Food Theme Days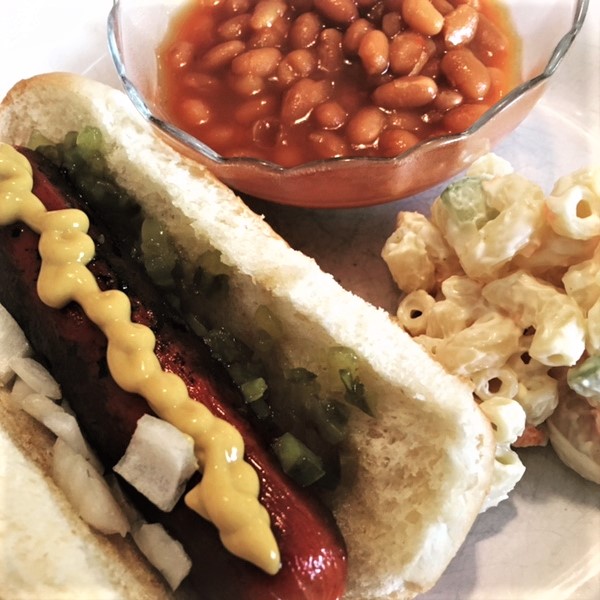 Yesterday was opening day for the National League Baseball! What says baseball and all American better than a hot dog, some mac salad and baked beans?
I treaded lightly with the Italian Family when I said it was Opening Day and we're having hot dogs! After all Sunday's in an Italian family are all about pasta, right?! Well not yesterday in the Mironti household. The weather is getting a little bit better and we haven't had a good picnic type meal since last summer. It really did hit the spot.
So what other foods go hand in hand with holidays that you can think of? Start planning now. Theme days and food go well together. Tonight is the final for NCAA basketball. Do you have any snacks planned? Here are some theme days or holidays coming up that you should think about. I have some traditional foods that we have and you can create your own as well.
Easter – we're all about Ham for Easter as well as twice-baked potatoes and all the sides. My grandmother always made sure one side was spaghetti.
Cinco de Mayo – it's Taco Time!! Or enchilada's or one of my favorites – see recipe here: Open Faced Taco
Mother's Day – make Mom a nice dinner. My mother loves shrimp link to recipe here: Shrimp Scampi
Memorial Day – time to haul out the grill and get your barbecue on! Here are some picnic sides – link here: Retro Side Ideas!
Father's Day – treat Dad to his favorite food – how about a brunch here is a recipe idea here: frittata!
4th of July! – more picnic foods – mix it up a little – add something new – ideas coming!
Any ideas? Let us know what your theme food days are and send ideas!