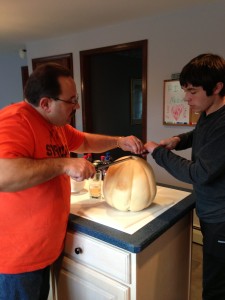 Every spring The Mironti's hold a cut the cheese party. Sounds redneck-ish doesn't it? Well actually it is not it is more "Guido-ish" Yes, it's totally Italian. You see the cheese is provolone and it is aged by a group of Italian or adopted Italian men who are aging too! 🙂
This is an annual event with the chief Italian Sandro Mironti, our neighbor and second in command Italian, Tony DiLucci, my cousin Paul Thomas – doesn't sound Italian but he sure is with a grandmother by the name of Assunta Yacavone Tremacco, and last but not least my brother-in-law, Ken Munro. Definitely doesn't sound Italian nor is he, however he is the adopted one and actually I think he communicates better with his Italian than any of us!
It is pretty well known that food in an Italian family is what brings it altogether. I'm sure it could be true of many European cultures but I know Italian. There are no better memories than those memories I have of gathering around my grandmother's kitchen table. All of the cousins having fun filling our tummies on Grandma's great "macaroni!"
So our cut the cheese party is very similar to those old memories. We look forward to it every year and we gather around the Mironti kitchen having fun, cutting the provolone, adding in some olives, salami, pepperoni, hot peppers, prosciutto, a little vino or a lot of vino for some 🙂 and living in the moment.
Start a tradition with family and friends. It's something great to look forward to.
Here are some pictures of building and enjoying a cut the cheese party!