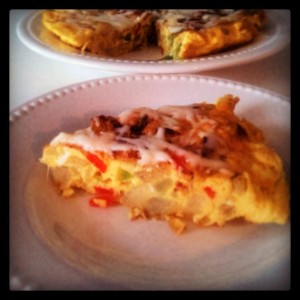 A frittata is an easy and healthy meal all in one pan!  So what about this title?  Back in the late 80's, early 90's I worked for Onondaga County Health Department.  I worked with a lot of fun nurses back then! We had to keep our sense of humor as the clients we served really never wanted to hear us preach about keeping a healthy lifestyle for the good of themselves and their babies.  Some clients humored us, but for the most part we worked tirelessly to decrease infant mortality in Onondaga County to no avail.  To this day the county continues to have a high infant death rate.  As a nurse it frustrates me that we were unable to reach our goal.
At any rate back to what nurses have to do with Frittata?  Well for one thing as I mentioned it is a very healthy dish to serve and secondly there used to be a Regatta (boat race) on Onondaga Lake.  As the race got closer we encouraged each other to go by running around with the saying "Ya Gotta Regatta!"  We used to think we were so funny!  Every time I hear the word frittata it reminds me of regatta at which time I flashback to my fellow nurses at the county.  🙂
Of course, Frittata is another dish that my grandmother would whip up for us anytime of the day or night.   It's very easy to make and a delicious healthy meal all in one pan.  Boy do I ever miss her cooking, but every time I make something that she taught me I can feel her looking over me saying "another pinch of salt!" For this recipe I stole Sandro's recipe so let's give him credit!  I'm lucky as he is an excellent cook!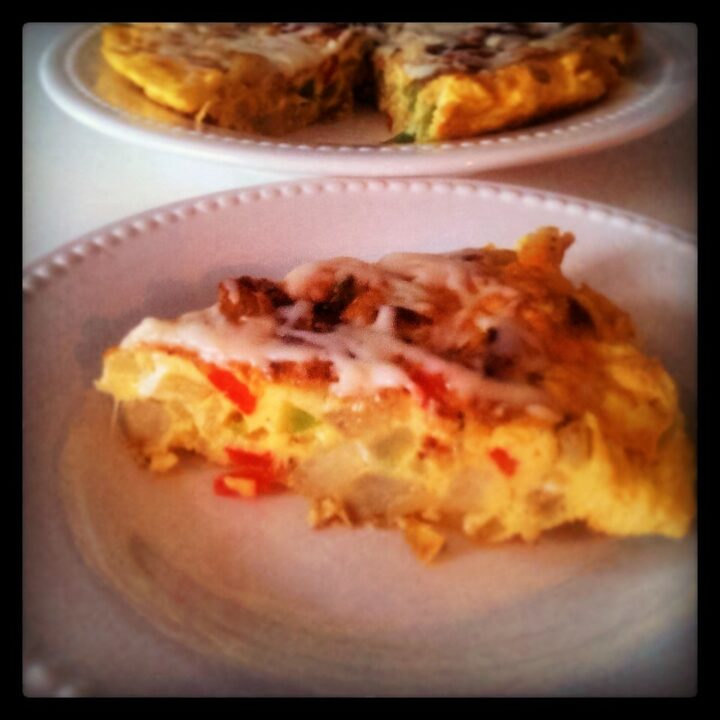 Ya Gotta Frittata!
Yield: 25 min

Prep Time: 10 minutes

Cook Time: 15 minutes

Total Time: 25 minutes

This is a great dish for breakfast, lunch or dinner! You can make it with any combination of meats or vegetables!
Ingredients
8 eggs - whisked
1 tbsp. of half & half
2 tbsp. parmesan cheese
1 red pepper - diced
1 sm. onion - diced
1/2 c shredded mozzarella cheese
Salt & Pepper to your preference
1 tbsp. butter
1/4 cup of chopped flat leaf parsley
You can also make with any veggie you like such as:
1/2 cup of chopped cooked asparagus
1/2 cup chopped ham
1/2 cup hot Italian sausage
Instructions
Over medium heat in a 12 inch skillet melt the butter and add the pepper and onion to the pan, saute until they start to get soft.
Add any other ingredient that you would like. This is highly to your preference. Mix it up every time you make this.
Whisk the eggs well and add the salt, pepper, parmesan cheese, parsley, and half of the mozzarella cheese.
Pour the egg mixture over the veggies and meats in the skillet and stir with a rubber spatula and cook until it sets on the bottom and starts to on the top.
You can throw the rest of the mozzarella cheese on the top if you like a lot of cheese. Place the skillet in the oven under the broiler and cook for 3-4 more minutes until it is golden brown.
Take out of the oven, let it rest for a minute, serve out of the skillet or slide it on a serving dish, cut it like a pie and serve immediately.