Loaded Baked Potato and Being Irish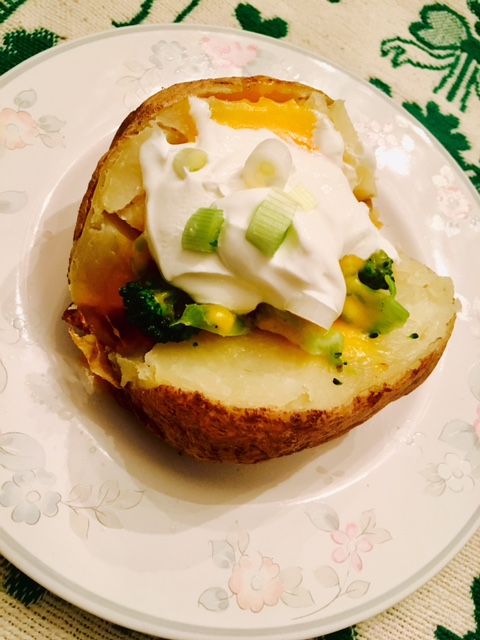 This isn't the most creative recipe nor is it a recipe but I was dying for a loaded baked potato the other day.  So here it is!  As you can see the backdrop is my lovely Irish themed table runner.  March is my holiday month as many of you recall this is the biggest holiday month of the year next to October (my birthday month).  And when you think of potatoes I guess you could think of the Irish too.
Are you all getting ready to have a corned beef and cabbage and boiled potato dinner! Probably not because many people are not traditionalists like I am.  Maybe you're not Irish, maybe you don't like Irish people :), maybe you don't know how to make it (not hard when you just boil everything), maybe you don't like the taste.  Hey, I even get Sandro (born in Italy) to eat it!  He tolerates it but I think he'd rather run home to his Italian mother crying when he's done!  However, growing up Kane this is a must have on St. Patrick's Day for my family.  Like it or not – that's what we're having!! And as I like to say the baked potato isn't the only thing loaded around St. Patrick's Day!
Well get your Irish on this weekend because it's the Annual St. Patrick's Day parade in Syracuse!  Did you know Cortland native Nancy Duffy worked tirelessly to get that parade started?
Click the link below for the details on the Parade:
Syracuse St. Patrick's Day Parade info
In the comments below, tell me what you like to stuff your loaded baked potato with!  Erin Go Bragh!! 🙂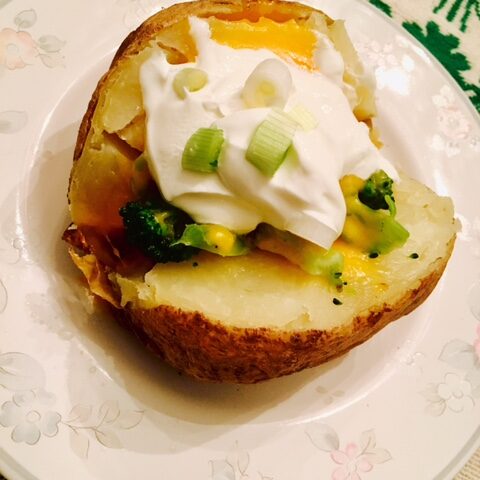 Loaded Baked Potato
Ingredients
Large Idaho Potato
Broccoli
Cheddar Cheese
Sour Cream
Crisp chopped bacon
Scallions
Add anything you like - the sky is the limit!
Instructions
Bake the potato until soft through the middle
Split the potato
Stuff it with all the ingredients.
Melt the cheddar cheese under the broiler or in the microwave.