An Italian Concoction of Sorts (Zucchini, Potato and Italian Sausage)
My grandmother and mother always liked to make dishes whereby you looked in the refrigerator and decided what to throw into the dish.  Sometimes my Grandma Sue would call it an Italian "mixture" and my mom would call it a "concoction."  Whatever you want to call it – it doesn't matter but what does matter is that it hits the spot and is a great winter comfort food or a quick stove top meal in the summer with fresh summer veggies from the garden!  And as always make sure you have a crusty Italian bread to serve with this because otherwise Italians don't know what to do with their other hand! 🙂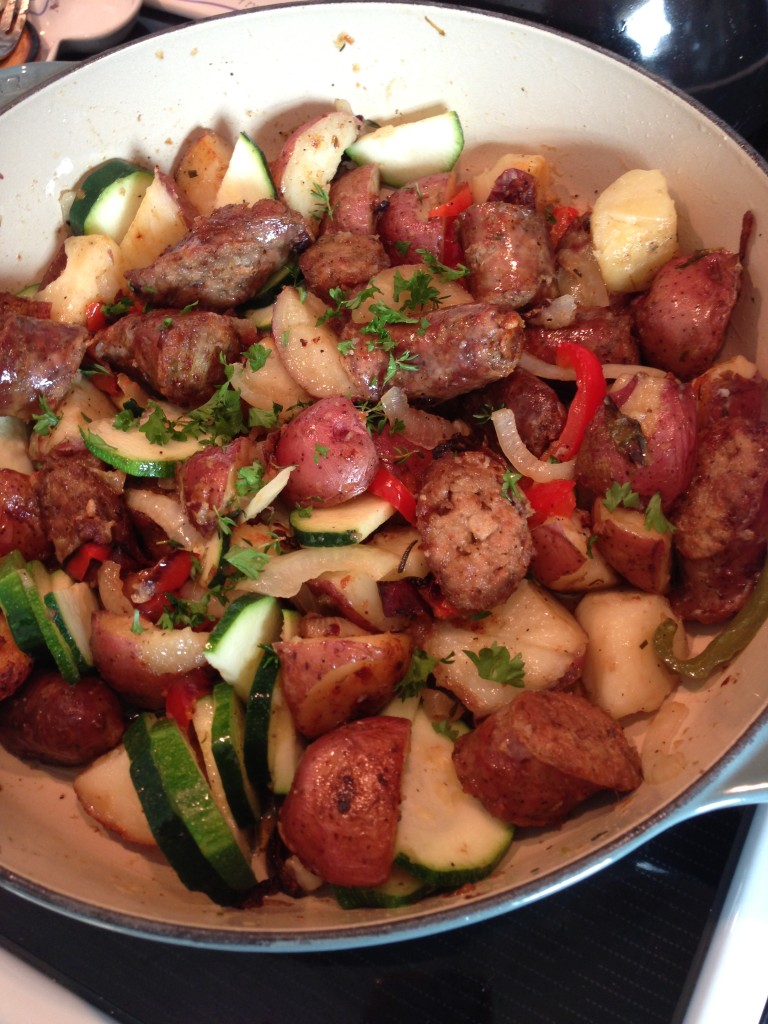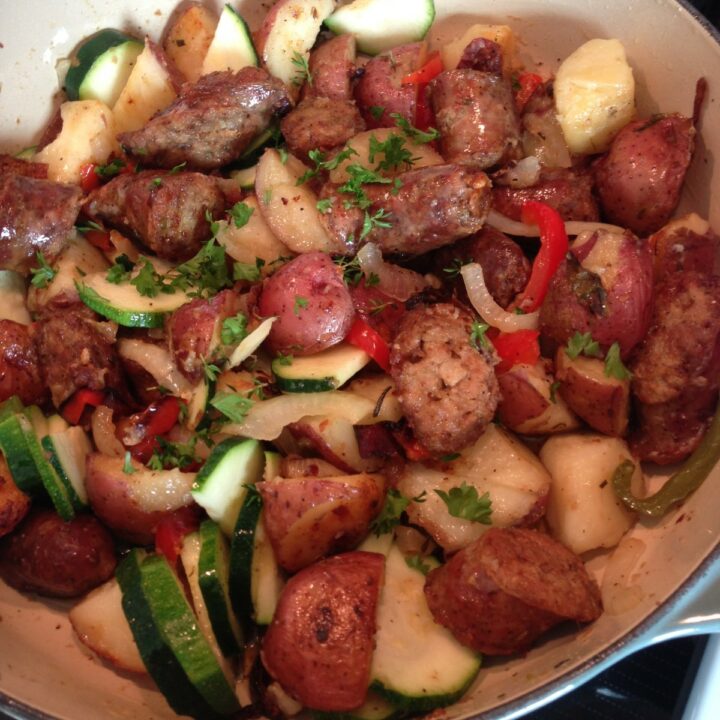 An Italian Concoction of Sorts (Zucchini, Potato and Italian Sausage)
Great one pot dinner for any time of the year!
Ingredients
3 tbsp olive oil
4 cloves of garlic smashed
1 small onion - sliced
6 small red potatoes - quartered
1/2 red pepper - sliced
1/2 green pepper - sliced
2 medium zucchini - sliced 2 or 3 links of hot italian sausage
parsley - chopped
Salt, pepper and garlic powder
Instructions
Preheat a dutch oven or large skillet over medium heat, add the olive oil and garlic and saute for a few minutes, add the sliced peppers and saute for a few minutes and then add the onions. Cook until all are almost done.
Wash the potatoes and quarter them. Remove the onions and peppers from the pan and set aside. Add the potatoes to the pan, add salt and pepper to your preference and cook covered until the potatoes soften.
Preheat the over to 350, add more olive oil to a baking dish and bake the hot sausage until crispy and brown.
Slice the zucchini and add it to the pan, salt and pepper to your preference.
Add the peppers and onions back to the pan and the sausage when it is fully cooked.
Saute covered for a 10 minutes or so and toss the parsley on top.
Saute for a few more minutes.
I also have added mini meatballs into this as well.
Enjoy!