Retro Sides – Sweet Potato Puff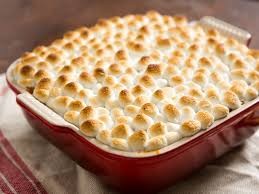 When I first started blogging way back in 2009, I posted some recipes termed "Retro Sides."  I think some of these recipes are worth a repost because we're never too good for these comfort foods at Christmas!!  And not only that you can fool the family into getting the nutritious benefits from a sweet potato which is packed with Vitamin A, as well as Vitamin C, and other great minerals!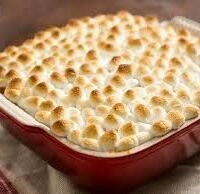 Retro Sides -Sweet Potato Puff
Prep Time: 20 minutes

Cook Time: 30 minutes

Total Time: 50 minutes

I love this and only get around to making it once every few years.
Ingredients
4 medium sized sweet potatoes
1/2 cup orange juice
1/2 cup light cream or milk
1 teaspoon vanilla extract
1/2 cup sugar
6 tablespoons butter
1/2 teaspoon cinnamon
1/2 cup brown sugar
1 bag mini marshmallows
Instructions
Bake or boil the sweet potatoes
Drain or remove from skin
Place the potatoes in a bowl and mix in the 3 TBSP butter, light cream or milk, orange juice, vanilla, sugar and cinnamon. Mix with an electric beater until smooth.
Melt the remaining butter in a bowl and mix in brown sugar.
Sprinkle the mixture over the sweet potatoes and bake on 350 degrees for about 30-35 minutes.
Take the potatoes out of the oven and place mini-marshmallows on top and cook until marshmallows are slightly browned.