Another Christmas Side – Brussel Sprouts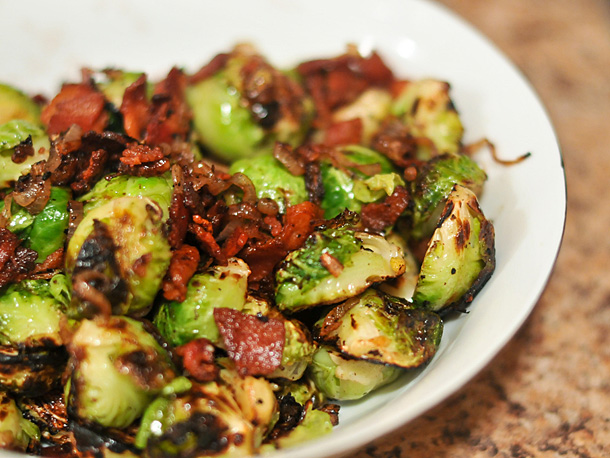 I dug out this recipe for a quick post in case, like me, you're wondering what else to serve tomorrow.  Don't turn your nose up to these brussel sprouts because they aren't your Momma's boiled, smelly sprouts! 🙂  I make these with diced red onion or crumbled crisp bacon or both!! Merry Christmas!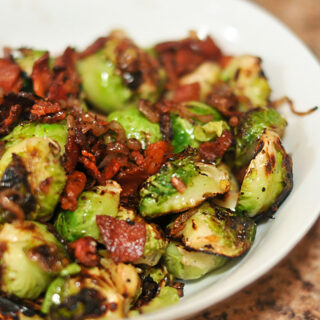 Another Christmas Side - Brussel Spouts
Prep Time: 10 minutes

Cook Time: 20 minutes

Total Time: 30 minutes

You can make these with crisp bacon or red onion or both!
Ingredients
Brussel Sprouts - fresh from the produce department - about 1 to 2 dozen
Red Onion - 1/2 medium onion
3 pieces of Bacon
Olive Oil
Salt
Pepper
A dash of Garlic Powder
Instructions
Preheat oven on 375 degrees
Clean the brussel sprouts - cut off core, peel any loose or damaged leaves, wash and let dry
Cut the sprouts in half
Chop the onion
Cook bacon and set aside
In a baking dish cover the bottom with the olive oil - 2 or 3 turns of the dish
Add brussel sprouts and onion, a pinch of salt, pepper and garlic powder to the baking dish and bake until carmelized and becoming soft. (Approximately 20-25 minutes).
Remove brussel sprouts from the oven, crumble the bacon over the top for the last few minutes of baking.
Enjoy!