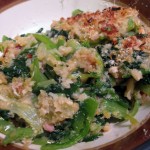 A friend I used to work with (Bob Torti- nice Italian boy) asked if I had the Utica Greens Recipe. Unfortunately I do not, but I did some online research and found that most of the recipes posted are exactly like this one or very similar. These greens will go nicely with Chicken Riggies which you will find at the Recipes/Articles tab.
Ingredients:
1 large escarole (or 2 small heads)
4 slices prosciutto, thin slices, chopped
1 to 2 garlic cloves, chopped
2 tablespoons olive oil
2 long Italian hot peppers, seeded and julienned
1/2 cup breadcrumbs
1/4 cup Pecorino Romano cheese, grated
1 cup chicken broth
Salt and pepper to taste
Directions:
Clean and rinse escarole twice; chop in large pieces.
Boil down for 5 or 6 minutes so it's tender and wilted.
Place olive oil in a saute pan and heat.
Add chopped garlic and prosciutto and render for 2 or 3 minutes. Do not burn garlic.
Add seeded peppers and cook another minute or so.
Add the escarole and all the other ingredients in the pan.
Gradually add the breadcrumbs and grated cheese, tossing gently until blended.
Taste for final salt and pepper seasoning.
Place in a casserole; sprinkle a little of the breadcrumbs and place under a broiler for 3 to 4 minutes. Serve hot.
Enjoy!