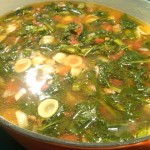 This soup really has no name. Often times if I don't have dinner planned I start rummaging through the cupboards and frig and I come up with dinner. I make it a fun challenge to see what I can come up with. This must have been the case with this soup.
It's cold in Central New York. We like to joke that we had our spring, two days of summer and now we're back to fall. So tonight was a nice night to serve comfort food. We won't have a lot of opportunity for that soon because summer should return! 🙂
The Soup with No Name
Ingredients:
1 small onion – diced
1 head of rapini (broccoli rabe)
2 links of Hot Italian Sausage
1 can of diced tomatoes (15 oz)
1/2 to 3/4 of a box of orecchiette pasta or short pasta like elbows, ditalini, etc
64 oz of chicken stock
Salt and pepper to taste
Garlic Salt to taste
About 1/2 tbsp of sugar
A few grates of nutmeg
2 tbsps of Olive Oil
2-3 tbsp of parmesan cheese
Directions:
Over medium heat add 1 tbsp of olive oil and diced onion to a large soup pot – add salt and pepper and garlic salt and saute for 3 or 4 minutes.
Wash the rapini thoroughly with cold water, cut off the ends, rough chop, and boil for about 10 minutes – do not overcook, drain and set aside.
Remove the hot sausage from the casing, add the rest of the olive oil to a frying pan over medium high heat, scramble sausage and cook until golden brown – set aside as well.
Add the chicken stock to the soup pot and simmer for about 15 minutes, then add the rapini and sausage as well as the diced tomatoes. When you add the diced tomatoes – sprinkle them with the salt, pepper, garlic salt and sugar.
In a medium sized pot bring water to a boil, add a generous amount of salt and cook the pasta until al dente, before draining pasta water, remove a cup of the cooking water and set aside. Drain the pasta and add it to the soup pot and also add the pasta cooking water.
Grate a small amount of nutmeg into the soup and the parmesan cheese and you're done!
Now it is taste time to be sure you have enough seasoning. Add to it as you see fit!
Serve with crusty bread and extra parmesan cheese!
It's good for the soul soup. 🙂 Maybe that could be the name?