Today I had the house to myself as San and James along with my brother-in-law Ken took their annual outing to Watkins Glen for the big race. Ahh, peace at last! However, instead of relaxing I did what any good little Italian would do – I cooked! I spent many Sunday mornings with my Grandma Sue making an array of Italian dishes. I just can't get out of the habit that Sunday's are for making big meals for the family. Today I was in the mood to make my Grandma's gnocchi.
It's really not as hard as you think. So follow along!
Ingredients:
4 cups of flour
4 potatoes OR
1 – 15oz container plus another half of whole milk ricotta cheese
1 tsp salt
1 egg
Directions:
Add flour to a bowl, add the salt and egg and then it is decision time….
If you are using the potatoes – boil them until soft and then put them through a potato ricer and add to flour mixture. You may not have a potato ricer so try just mash up the potatoes.
If you are using the ricotta cheese add it to the flour. I prefer this method as it is easier. Mix all ingredients togther in the bowl very well and then knead the dough on a generously floured cutting board.
Roll out the dough in strips like this: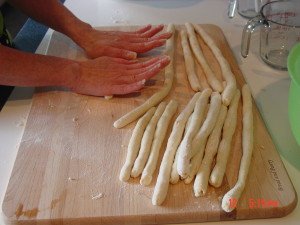 And then cut them into 1 inch pieces like this: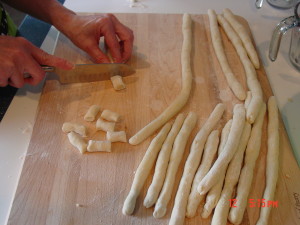 Now roll them over the back side of a fork like this. Be sure to flour the fork for easy rolling. This helps add texture to the gnocchi for the sauce to have something to grab on to 🙂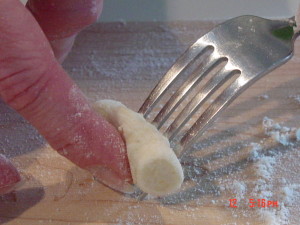 Now put them on a tray to hang out until you are done with all of them like this: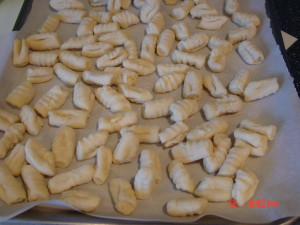 To freeze the gnocchi put the tray in the freezer until frozen and then you can store them in a ziplock bag. Otherwise cook those that you plan to use right away and eat them like this: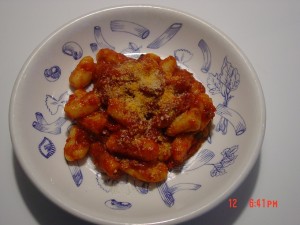 Delicious!! 🙂