Heirloom Tomatoes and Garlic Shrimp
It's been a long and hot summer and there were many nights having to think about cooking seemed like a daunting task! However not only are the nights turning cooler but football season has started and I'm alive again!  We'll soon be into fall which is my favorite season.  FOOTBALL, MY BIRTHDAY, and perfect COOKING Weather!
Last night I made this for my mother, Sandro and me.  My mother loves shrimp so I whipped this up in no time.  It's very easy to make which you will see by the recipe below.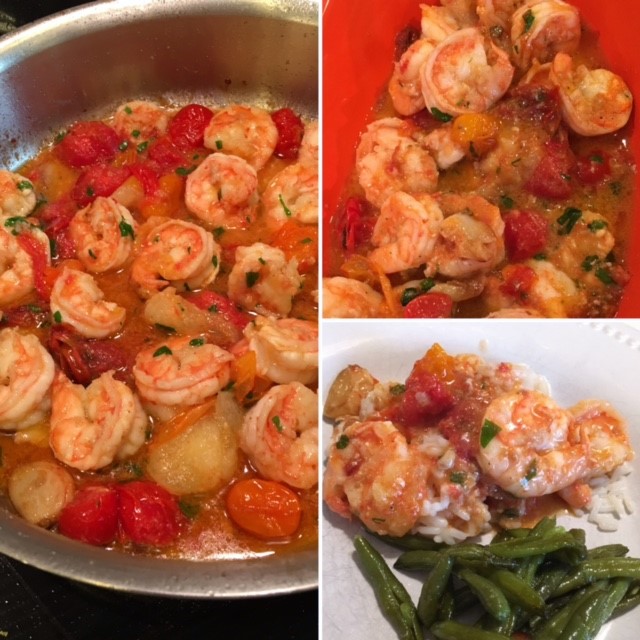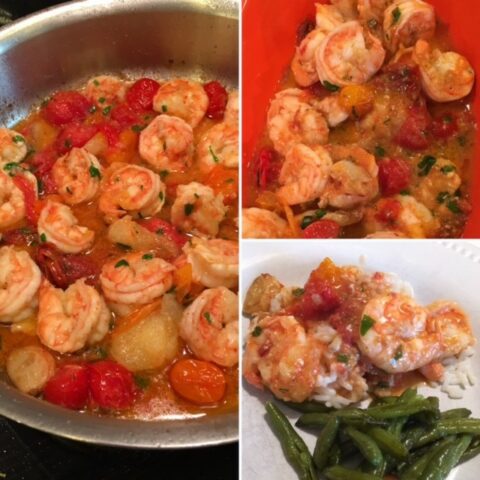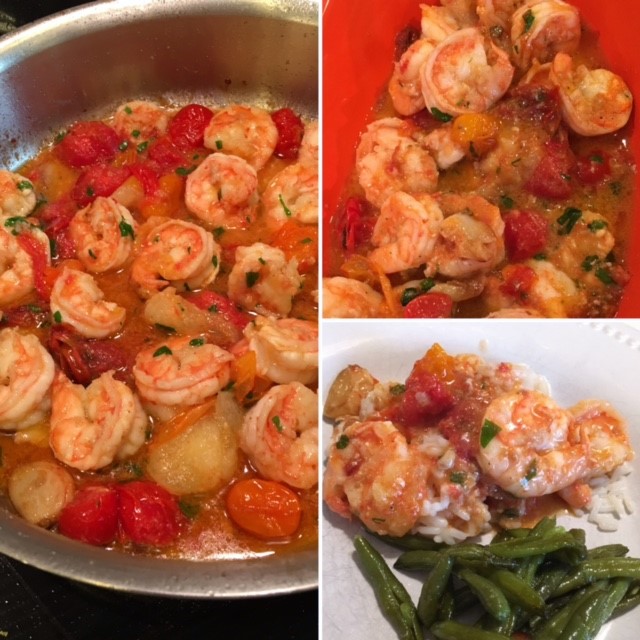 Heirloom Tomatoes and Garlic Shrimp
This is a nice twist to Shrimp Scampi and easy to make. Serve over rice or pasta.
Ingredients
Fresh shrimp - Jumbo (16-25 ct)
Heirloom cherry tomatoes - 1 carton
6 cloves of garlic - peeled and crushed
2 tbsp. olive oil
2-3 tbsp of unsalted butter
Zest of 1 lemon
Juice of a half lemon
Salt and Pepper to taste
Garlic Powder
2 tsp sugar
Parsley - chopped
Instructions
In a large heated skillet over medium heat add the olive oil and saute the garlic cloves until they start to get golden.
Add the tomatoes and start to heat until you see a few starting to burst. Add the sugar, salt and pepper.
When the tomatoes have burst, add the butter and melt the butter.
When butter is melted, add the shrimp, more salt, pepper and garlic powder as well as the zest of the lemon.
Because shrimp cook fast and get rubbery if they're overcooked, stand over stove as you cook shrimp, after a minute or two turn the shrimp over and cook on other side.
When shrimp are pink on both sides, turn the heat to low.
Add the juice of the lemon and the parsley.
Serve over pasta or rice.
Have some nice Italian Bread to soak up the lovely juices!
Enjoy!