Chicken Riggies – A Mallory Favorite!
This one is for my neice Mallory.  She makes my ego get real big because she begs me to make her chicken riggies every time she is home from college.  Mallory has just completed her sophmore at LeMoyne College where she is majoring in Communications and Journalism.  In fact, I can see into her future and will tell you that she will be a co-host on the Today Show down the road and she will be inviting me to join her on the cooking segments 🙂
So back to the Chicken Riggies.  These were made famous in Utica, NY and Rachael Ray even talked about them on her 30 Minute Meals, but these are the Denise Mironti version and I make them extra special for Mal!  Now that the 4th of July is on the books for 2011, we have had our craving for b-b-cue fulfilled and I can move on to some old family favorites!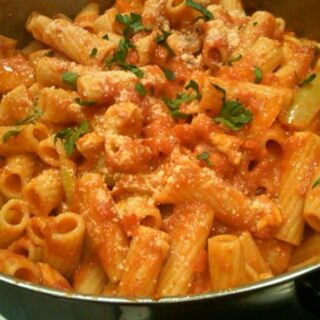 Chicken Riggies - A Mallory Favorite!
Ingredients
1 lb of rigatoni
1 can of crushed tomatoes
3 cloves of garlic
2 tbsp olive oil
1 small onion - sliced wedges or chopped
2 cubanelle peppers - sliced
1 red bell pepper - sliced
2 boneless chicken breasts
salt, pepper, garlic powder - all to taste
red pepper flakes
1 tbsp sugar
1/2 tsp all spice
1/4 stick of butter
About 3 Tbsp of Parmigiano Cheese
3 or 4 fresh basil leaves
About 2 to 3 tbsps of Half and Half
Instructions
Bring a large pot of water to a boil with a generous amount of salt which should be a good tbsp or two. Add pasta and boil until al dente or a little hard.
Add olive oil to a large skillet over medium heat. Cut the chicken into small strips and add to the pan with salt, pepper and garlic powder. Fry until golden brown and set aside. In the same pan add a little more olive oil and the garlic cloves and fry until golden brown. Then add and fry the onions and peppers until almost cooked.
The next step is to add the crushed tomatoes and season with salt, pepper, garlic powder, sugar, all spice, butter and red pepper flakes. Simmer for about 20 minutes and then add chicken back into the pan. Simmer again for another 10 minutes at which time you can add the Parmigiano cheese.
At this point taste the sauce to make sure it is seasoned to your liking. When seasoned to your taste - fold in the half and half and keep sauce on low.
The pasta should be al dente which is slightly hard. At this point reserve a half cup of the cooking water, drain pasta and add right into the pan of sauce. add a little of the starchy cooking water. Simmer for about 3 to 5 minutes which gives the pasta and sauce to marry each other! They fall in love so easily! 🙂
Transfer to a pasta bowl, top it off with Parmigiano cheese and chopped basil!

Mangia!