National Pizza Day! Sandro's Specialty!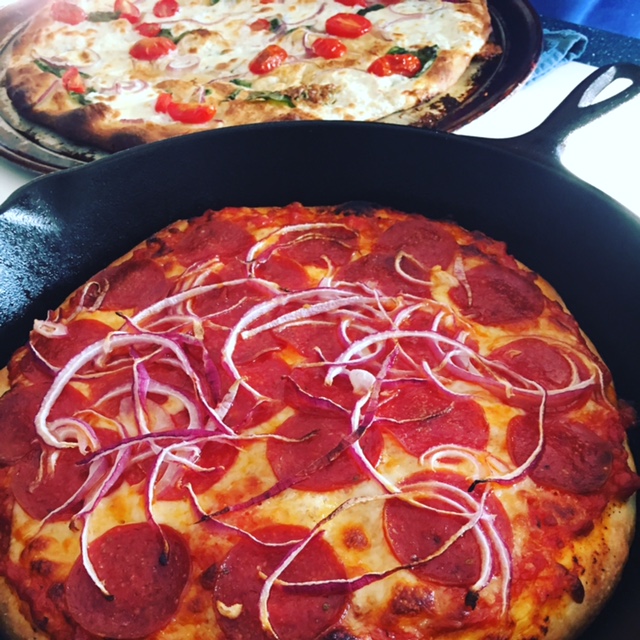 I see today is National Pizza Day!! Woo Hoo! Sandro is the pizza maker in the family.  He spent years in the kitchen of a local restaurant making pizza after pizza.  He worked with a chef who was very particular so Sandro perfected his pizza making skills over the time with her and of course with Mama Gina! (my mother-in-law).  She makes a very good and authentic Italian Pizza unlike the one you see is America! Oh so good!
One night he put a twist on the pizza and made it in a cast iron skillet.  OMG!  It was a deep dish pizza yet like a regular pizza with the topping on the top of course.  Try this out as you will not regret it.  The crust is crispy yet soft in the center.  Mom (the Julia of Julia's Child) and I ask Sandro to make this for us quite often.  Friday's are made for pizzas!  So I guess it's a day early this week!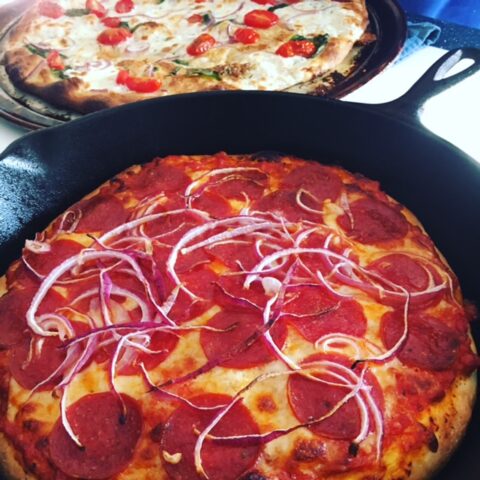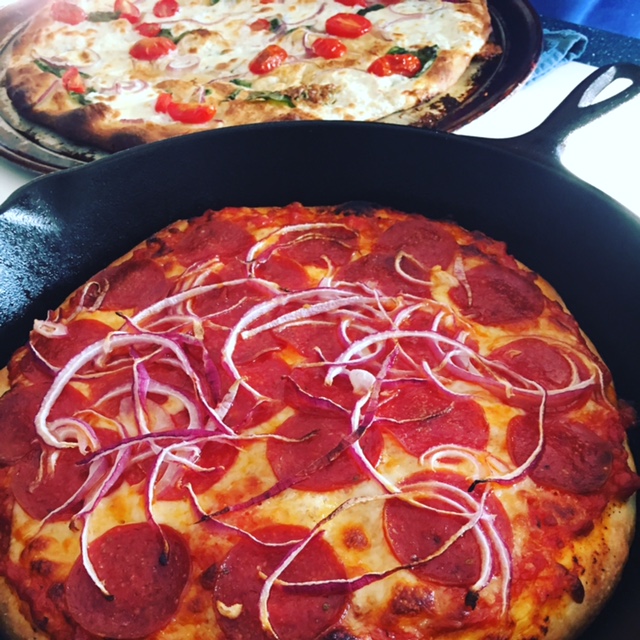 National Pizza Day! Sandro's Specialty
Pizza is an easy go to or a fun dinner for Friday nights
Ingredients
Pizza Dough
Pizza Sauce
Mozzarella Cheese
Pepperoni
Any other toppings you like - I suggest onions, peppers, sausage, mushrooms, but the choices are endles!
Instructions
This is not really a recipe but an assembly.
Buy some pizza dough at your local store.
Heck even buy the pizza sauce.
Get the toppings of your preference.
Allow the dough to rise. It could take awhile so plan accordingly!
Preheat oven to 375.
HERE IS THE NEW TRICK - Sandro uses the cast iron skillet for one.
Coat the skillet or pizza try with a thin layer of olive oil.
Par-bake the shell in the oven at 375.
Take the shell out and add all the toppings and cook for about 20-25 mins on 375.
Slide the pizza out of the skillet and cut it on a cutting board.
MANGIA!!!