Chicken Caesar on Ciabatta
This sandwich is a great go-to for a summer night or perfect for a small lunch with a few friends.  It hit the spot for my family as they were begging for rights to the last bite! 🙂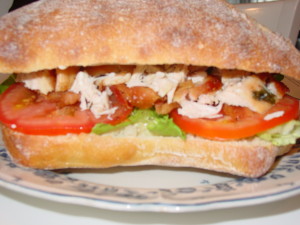 Ingredients
1 Loaf of Ciabatta Bread – they come in all shapes and sizes – get a large loaf
1 lg tomato – sliced
8 Romaine Lettuce Hearts
2 chicken breasts on the bone
6 slices of bacon
1/4 c of mayo
1/2 c of Caesar dressing
olive oil, salt, pepper, garlic powder, garlic cloves, fresh chopped flat leaf parsley – these are the ingredients you will use to season chicken
Directions
Preheat oven to 350F
Cover the bottom of a large roasting pan or baking dish with olive oil, peel the garlic and cut it in half and add it to the olive oil.  Liberally rub the chicken breasts with olive oil and season with salt, pepper, garlic powder, and chopped parsley leaves to your preference.  Be sure to start this process about an hour and half or two before you want to eat.  It's important to cook the chicken slowly so it is moist and tender.  Cover the chicken for the first 30 minutes of baking and then leave uncovered for another hour or until it has reached proper temperature.  Be sure to check the temperature to ensure it has reached at least 170F.  Take the chicken out of the oven and allow it to "rest."  As Sandro will say the poor thing is tired so give it a break to allow the juices to R&R – rest and reabsorb.  Isn't he cute?!
In a small mixing bowl mix the mayo and Caesar dressing until smooth.  Cook the bacon and set aside as well as slice the tomato, wash and thoroughly dry the romaine lettuce.
When the chicken has had its R&R – remove the skin and cut the breast from the bone.  Slice the chicken in strips and set aside.
Slice the ciabatta in half and spread the dressing on both sides of the bread.  It's now time to build this masterpiece.  Layer the lettuce, tomato, bacon and then the chicken.  Put the top on and enjoy!  🙂  Can it get any easier?  Serve with a side of chips or pasta salad.