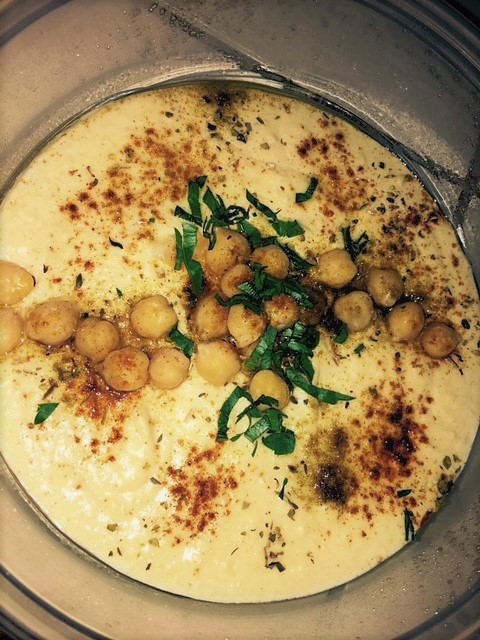 In the May/June Issue of Christopher Kimball's Milk Street Magazine (Formerly America's Test Kitchen) there is an article about and recipe for Hummus Perfected.  It starts out stating that we serve Hummus wrong and we make it wrong.  In places like Israel they eat it for breakfast and never as a party dip.  So the staff traveled the world to find a perfected way to make Hummus.
I add a question mark because true to form I read the recipe and then tried to do it by memory.  Half way through I wondered if I was doing it right and no I wasn't but it still came out darn good!
Some of my Italian relatives don't think garbanzo beans/chick peas should not be mashed and served like this but I have to say it's a healthy and wholesome snack and I love it.
According to the article many Americans make it from canned garbanzo beans. The trick for a smoother hummus is to start with soaking dried beans and blending them while they are hot.  I'll point out to you that chick peas come in 16 oz bags and this calls for 8 oz.  This was an issue when I went to blend them because I put way too many in the food processor and they were not blending well and clumped up.  It took extra effort to work this out.  Also take note it's baking soda, not powder.  🙂 Yes I grabbed the wrong thing but it didn't seem to cause any harm.  I don't have kosher salt so I used regular.  So as you can see – it's really okay to make mistakes in the kitchen as it won't kill anyone and you can always try again.
Some other tips – tahini is either near the peanut butter or in the specialty food aisle and it is pricey but worth it.  Some say you can sub in peanut butter but tahini is not that thick.  If you like garlic you can add that or any other flavor as I have seen roasted red pepper, hot pepper, avocado, sundried tomatoes, etc. Serve with pita bread or fresh veggies.
Here is my version of the recipe: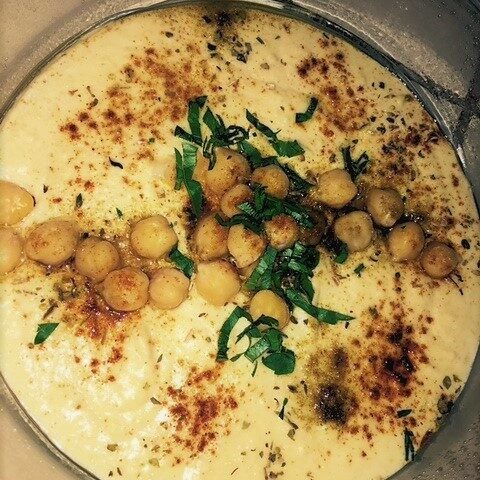 Hummus - Perfected?
This is easier than you think and the more you make it I am sure the more perfected it will become.
Ingredients
8 oz of dried chick peas
Cold Water
2 tbsp of salt plus 1 tsp.
1/2 tsp baking soda
3/4 c tahini, room temp
3 1/2 tbsp of lemon juice
1 to 2 tbsp of extra-virgin olive oil
1 tbsp chopped parsley
1/2 tsp of cumin
1/2 tsp paprika
Instructions
Combine the chick peas and cold water. Enough water to have a least a couple of inches above the beans. These will expand. Let them soak overnight or for at least 12 hours.
In a large pot bring water and baking soda and 2 tbsps of salt to a boil. Drain the chick peas and add them to the pot. Reduce heat and cook until skins are falling off.
Reserve a cup of the boiling water, strain the chick peas, let them sit until water falls off and wait about a minute.
Set aside about a quarter cup of chick peas for garnish and put the rest in a food processor
Add the tsp of salt and start to blend.
Add the tahini and continue blending until very smooth. Us a spatula to get anything caught on sides of blender.
While blending add the lemon juice and cooking water.
Add to a bowl, garnish with the chick peas set aside, parsley, olive oil and paprika.
Serve with pita bread or fresh cut veggies like carrots or celery.