Riggies With a Twist – Sausage Riggies!
Chicken Riggies are all the rage but when you just want something different what could be better than Riggies with a twist by substituting Hot Italian sausage?  Well my family loved the idea and I hope yours does too…… so here is the recipe many have asked for.
Mallory – you can do this too!  If you can't come home to Cortland for Sunday Dinner – bring Sunday Dinner to Boston!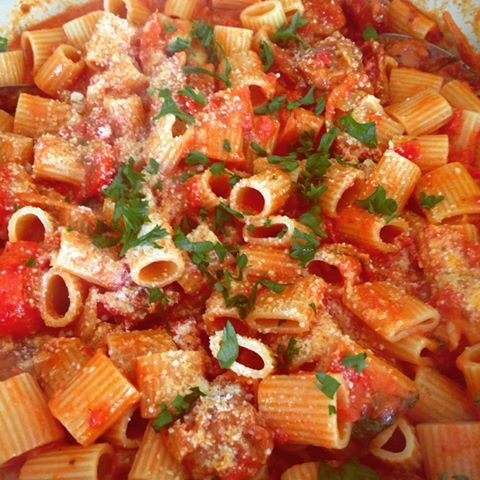 Riggies With a Twist - Sausage Riggies!
Ingredients
1 lb of rigatoni
1 can of crushed tomatoes
4 cloves of garlic
2 – 3 tbsp olive oil
1 medium onion – diced
3 cubanelle peppers – sliced
1 red bell pepper – sliced
1 Italian hot pepper - sliced – optional for extra heat
1 lb of Hot Italian Sausage
Salt, pepper, garlic powder – all to taste
Red pepper flakes
1 tbsp sugar
1/4 stick of butter
3-4 Tbsp of Parmigiano Cheese
3 or 4 fresh basil leaves or fresh Italian Parsley
½ cup of heavy cream
Instructions
Bring a large pot of water to a boil with a generous amount of salt which should be a good tbsp or two. Add pasta and boil until al dente or a little hard.
Add olive oil to a large skillet over medium heat. Saute the garlic until golden brown. Then add and fry peppers and then the onions until almost cooked.
Pre-heat oven to 375 degrees. Bake the sausage in olive oil until it starts to brown and at this point slice the sausage into ½ in pieces and continue to bake until fully cooked – nice crispy and brown in color! Set aside.
The next step is to add the crushed tomatoes to the onions and peppers and season with salt, pepper, garlic powder, sugar, butter and red pepper flakes. Simmer for about 20 minutes and then add sausage with drippings into the sauce. Simmer again for another 10 minutes at which time you can add the Parmigiano cheese.
At this point taste the sauce to make sure it is seasoned to your liking. When seasoned to your taste -fold in the heavy cream and keep sauce on low.
The pasta should be al dente which is slightly hard. At this point reserve a half cup of the cooking water, drain pasta and add right into the pan of sauce and add a little of the starchy cooking water. Simmer for about 3 to 5 minutes which gives the pasta and sauce a chance all nice and cozy with each other!
Transfer to a pasta bowl, top it off with Parmigiano cheese and chopped basil or chopped parsely!

Mangia!