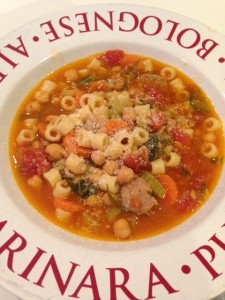 My family and I live in Central NY where we typically experience long, very cold and snowy winters.  This year has been an exception, until this weekend where the temps are going to fall below zero!  So what else is there to do but stay inside and cook.  With cold winters comes a lot of homemade soup.  This Hearty Tuscan soup is definitely on the menu for my family this weekend.  Try some out – it's sure to warm your heart and soul!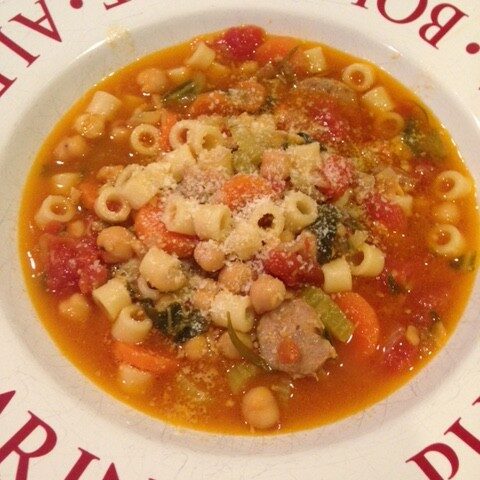 Hearty Tuscan Soup
Yield: 45

Prep Time: 20 minutes

Cook Time: 25 minutes

Total Time: 45 minutes

This soup is definitely good for the soul. It will warm you up during this cold snap we're having!
Ingredients
Olive Oil
4 garlic cloves
1 medium onion - chopped
2 celery stalks - sliced
3 carrots - sliced
1 small can of diced tomatoes
1 can of garbanzo beans
2 links of Italian hot sausage - sliced
1 box of ditilini pasta - use about 3/4 of the box
2 - 32 oz containers of chicken stock
Salt and Pepper to taste
Grated Parmesan cheese
Instructions
In a large soup pot over medium high heat pour in about 3 Tbsp of Olive Oil. Add the garlic until a golden brown color, then add the carrots until tender and then add the onions and celery and allow to cook until they start to soften.
While the carrots, onions and celery are cooking pre-heat the oven to 375 degrees and cook the hot sausage until it is crusty and brown. Set it aside to cool and then thinly slice.
Fill a medium size pot with water on high heat, allow to boil add a generous amount of salt and add the ditilini until al dente (not cooked all the way). Drain the pasta and set aside.
After the carrots, onions and celery are cooked add the chicken stock, diced tomatoes, garbanzo beans, and sausage into the soup pot. Simmer all ingredients and add salt, pepper to taste.
After soup simmers for about 15-20 minutes add the pasta and allow to simmer until the pasta cooks through. Add the parmesan cheese and cook for about 5 more minutes.
Serve with a crusty bread and enjoy!