Happy Valentine's Day to you and your loved ones! This morning my mom and Sandro were greeted with Sweetheart waffles for breakfast. I love to see the smiles on the faces of the people around my table that I cook for. Even better is when they tell me how good the food tastes. As a nurse I love caring for people and in an Italian family nothing says "I care" more than good food. Enjoy your day and hurry out to the kitchen to make this for your loved ones! Watch them light up with a big smile! Now "That's Amore!" 🙂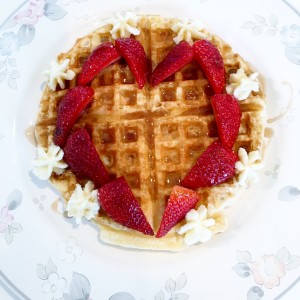 Sweetheart Waffles
Waffles made with love for anyone special in your life! Now "That's Amore!"
Ingredients
Toppings:
Strawberries - quartered
Mascarpone cheese
1 tbsp Confectioners sugar
Maple syrup - to your preference
Waffles:
2 c flour
2 tbsps sugar
1 tbsp baking powder
1-3/4 c reduced fat milk
6 tbsps vegetable oil
2 large eggs
Instructions
For the toppings:
Mascarpone topping - mix the confectioners sugar with mascarpone cheese. About a 2 to 1 ratio if you need more.
Wash, dry and slice strawberries in quarters.
Warm the maple syrup in microwave
If you are making the waffles - warm the waffle maker while mixing the waffles.
Place all waffle ingredients in a large mixing bowl and combine until well blended and smooth or follow your waffle maker instructions.
Form the strawberries in the shape of a heart on the waffle, decorate with the mascarpone cheese, and pour maple syrup over the waffles!