This is a dish that Sandro makes and this Italian man is a great cook!  When it's time for chicken piccata it is time for Sandro to do the cooking.  I have to say he does it better than any I've ever tasted.
He may use several frying pans and dishes but it's well worth it.  He's pretty darn good about cleaning up after he does the cooking too.  I guess we'll keep him around.  🙂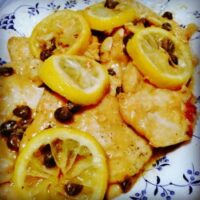 Sandro's Chicken Piccata
Ingredients
3 Boneless Chicken Breast
2 lemons
2 Tbsp. drained capers
2 Tbsp. butter
2 Tbsp. olive oil
2 Tbsp. chopped flat leaf parsley
1/2 cup chicken broth
1/4 cup of dry white white
2 tsp of minced garlic
Salt and Pepper to taste
Instructions
Add olive oil to a sauté pan over medium high heat. Cut the chicken into half and pound into thin cutlets. Salt and pepper the cutlets and dredge in flour.
Sauté the cutlets for about 3 minutes on each side and transfer to plate.
Deglaze the pan with wine and add minced garlic. Cook until garlic turns a golden color. Add the chicken broth, capers and the juice of one lemon. Cook for a couple of minutes.
Add the chicken back to the sauté pan, as well as the butter. Cut the other lemon into slices and add the slices into the pan. Cook for a couple of minutes and add the chopped parsley.
Serve immediately and enjoy!