Tuscan Chicken and Sausage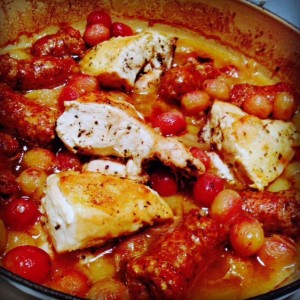 This one is definitely going into the "Family Favorites" of my recipe binder.  This recipe was inspired by the "Barefoot Contessa" on the Food Network.  I watch the Food Network often, and I typically take what I see and make it my own.  The original recipe was made with just sausage and the grapes, but I felt chicken would go good with it too.  I usually take what I see and add my own ideas as I am making the dish and see what it ends up like.  Typically I come up with all winners.  That's what makes cooking fun for me.  I love creating new dishes and as my family will tell you I take great pride in my work.  As for this dish…..  My family loved it! 🙂 The greatest gift to a chef is hearing that "mmmm this is so good" after the family takes their first bite!  I think they like having me home every day coming up with great meals!  I'm enjoying it too.
Recipe
Ingredients:
3 Chicken Breast Bone-in
3 Hot Sausage links
2 cups of Red Grapes
4 Shallots – diced
4 Garlic Cloves – peeled
2 Tbsps. of Olive Oil
Salt and Pepper to taste
Garlic Salt – to taste
2 tsp. Oregano
Chicken Broth – 1/2 cup
White Grape Juice – 1/2 cup
Wondra Flour
Directions:
Preheat oven to 350 degrees
Over medium heat in a large frying pan or dutch oven skillet heat the olive oil after a few minutes add the garlic cloves and sauté until golden brown. Cut the chicken breast in half, pat them dry with a paper towel and liberally sprinkle with salt, pepper, garlic salt and oregano. Presentation side down add the chicken to the pan. Cut the sausage into smaller links and add them to the pan as well. Brown the sausage and each side of the chicken and remove from the frying pan. Transfer to a plate, cover with foil and reserve to the side.
Now add the shallots to the pan, lightly salt and pepper them & cook for a few minutes. Add the grapes, chicken stock, and grape juice. Saute for a 4 to 5 minutes and add the Wondra Flour a little at a time to barely thicken the juices.
Add the chicken and sausage back to the pan, cover – cook in oven until the chicken's internal temperature is 155 degrees. Remove cover/lid and cook until the chicken is 165 degrees.