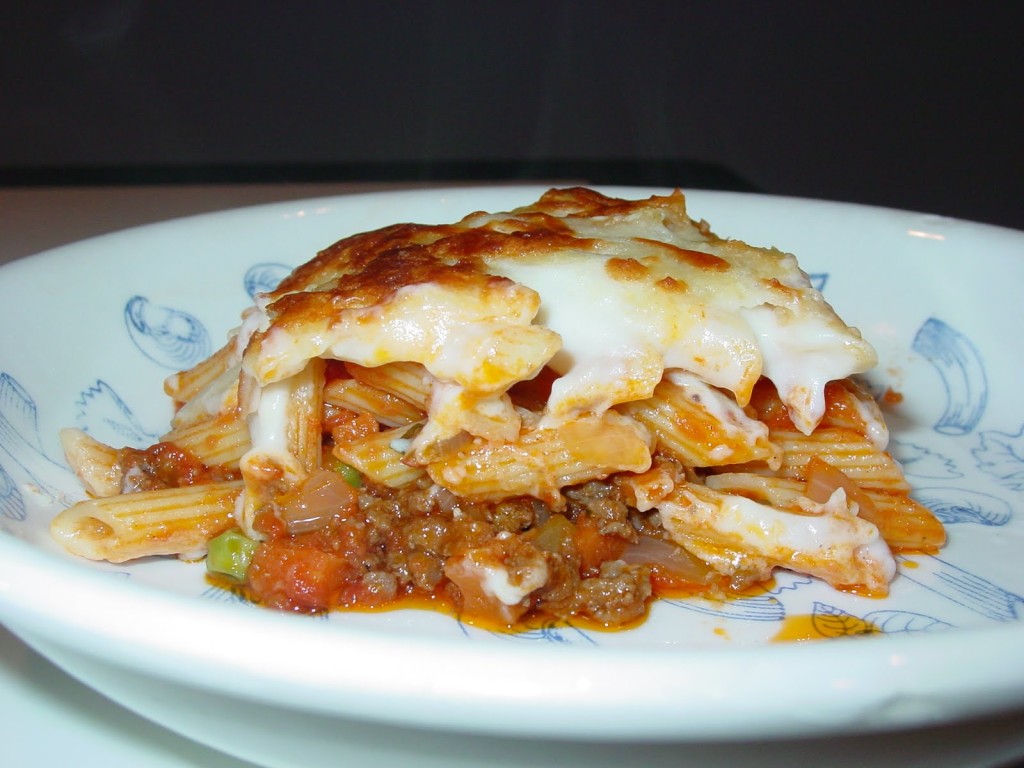 This is a recipe I posted years ago on my first blog.  The blog was called "Everyday Dinners with Denise Mironti."  I had a lot of fun with that blog and it morphed into Julia's Child.  I just came up with that name one day and it stuck! I used to watch Julia Child on Saturday afternoon as well as the Galloping Gourmet.  Do any of you remember those shows.  When they weren't on TV, I would just go down to Grandma Sue's kitchen and watch her! 🙂  Oh what fond memories my childhood is decorated with.
So anyway do enjoy working with this recipe.  I will tell you it can be rather complex when you look at it but plan out what you need to do.  Organize yourself with all the ingredients – step by step and you will have no issues.  The other thing you may want to do is pay your kid or husband or a neighbor to do the dishes!  You do dirty a lot of dishes with the prep on this.
Although Shepherd's Pie is an English dish I've been dreaming about how to put an Italian twist on it. My Italian family has turned their noses up to traditional Shepherd's Pie as have I over the years. This recipe will turn any fussy Italian into a believer that this comfort food is fit for the cool snap we're going to have over the next few days!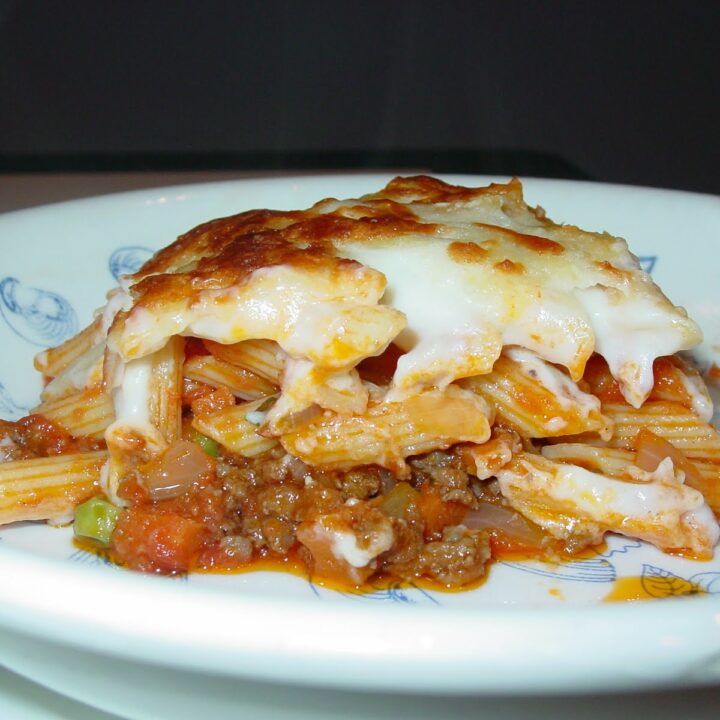 Italian Shepherd's Pie
Prep Time: 40 minutes

Cook Time: 30 minutes

Total Time: 1 hour 10 minutes

You will fall in love with the Italian flavors in this English dish!
Ingredients
Beef Layer
1 lb. ground beef – 85% lean
2 Tbsp. tomato paste
½ c. beef stock
1 medium onion
¾ c. frozen peas
¾ c chopped carrots
½ c chopped onions
1 tsp of Worcestershire sauce
Salt and pepper to taste
1 clove of minced garlic
2 Tbsp. olive oil
Pasta Layer
1 lb. of short cut pasta – I use mini cut ziti
1 28 oz can of plum tomatoes – use San Marzano
½ c. chopped onions
2 cloves of minced garlic
Salt and pepper to taste
¼ tsp. garlic powder
½ tsp of all spice
2 Tbsp. Olive Oil
Béchamel Sauce
3 Tbsp. butter
3 Tbsp. flour
2 c. 2% milk
Salt and Pepper
¼ tsp. garlic Powder
Freshly grated Nutmeg about 1/8 tsp.
½ c Parmigiano Cheese
Other
1 c shredded whole milk mozzarella
Instructions
Beef Layer
In a large frying pan over medium heat add 2 Tbsp of olive oil to the pan and the ground beef with approximately a tsp of salt and pepper. Cook for a couple of minutes and then add the minced garlic, tomato paste, beef broth and the carrots. Cook for another few minutes and add the onions and cook for approximately 2 minutes and finally add the peas. Reduce on simmer and set aside.
Pasta Layer
Place a large pot of water over high heat and bring to a boil, add a generous amount of salt and the pasta to the water and cook just shy of al dente.
In another large sauce pot over medium heat add the other 2 Tbsp of olive, the minced garlic and the onions and cook for about 3 minutes. Add the tomatoes and crush them with a tomato masher. Add the all spice, salt and pepper garlic powder (approx ¼ tsp of each) and bring to a bubble. Simmer and set aside
Béchamel Sauce
In another medium size sauce pan over medium heat melt the butter, whisk in the flour and cook for about a minute or so the whisk in the milk, adding slowly. After flour is dissolved in, add a generous pinch of salt, pepper, garlic powder and the nutmeg. Bring to a slow bubble and add in the Parmigiano Cheese and allow dissolving in the sauce. Gently simmer –stirring frequently.
Assembly
Drain the pasta and mix with the tomato sauce. Leave about a ½ c of sauce for the beef. Spray a lasagna baking dish with olive oil cooking spray and layer the beef mixture in the bottom of the dish. Pour the reserved sauce over the top. Layer the pasta over the beef and pour the Béchamel Sauce over the top. Layer some shredded mozzarella over the top and place in the over for about 30 minutes.
Enjoy!