Pumpkin (or Butternut Squash) and Sage Penne Pasta with Sausage
No matter where you live in the US and in particular anywhere up and down the East Coast it sure has been a long, snowy, and cold winter!  The only good thing about winter is snow days for the kids and comfort food for the rest of us! 
The other night I had about enough of the cold weather and thought tonight is comfort food for dinner.  I didn't want the traditional lasagna or mac and cheese or eggplant parm or whatever your favorite comfort food is so I thought about the ultimate in comfort?  Thanksgiving dinner, right? 
Okay, it is Thursday, but there sure isn't a turkey thawing out in the frig and I'm sure Sandro and James would like to eat before midnight so now what?  Hmmm what are the flavors of Thanksgiving that I can put together in 30 minutes?  So who else do you think of when I say 30 minutes?  Right then I remembered a dish I saw Rachael Ray make when we attended her food demo at the NYC Food and Wine Festival.   It was a pasta with butternut squash but my memory wasn't serving me as to how she did it.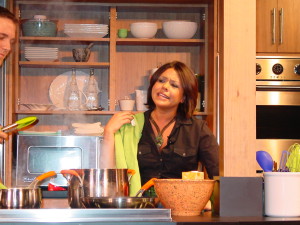 I also recalled that I recently watched one of her shows and she made a Pumpkin and Sage Penne with Sausage.  Now there's some Thanksgiving flavors I can put together!  This last one was much clearer in my memory so I decided to wing it – take a little bit from the pumpkin recipe and a little from the butternut squash and make the Julia's Child-Denise Mironti version!  Here it is I hope you enjoy it during one of these cold February nights.
Prep Time: 10 minutes
Cook Time:  20 Minutes
Ingredients:
1 box of frozen butternut squash or a small can of pumpkin
1 tbsp olive oil
Salt, Pepper and Garlic Salt
1 lb of Penne Pasta
1 lb of bulk hot Italian sausage
1 shallot, chopped
1 small onion, chopped
3 garlic cloves, grated
1 Tbsp butter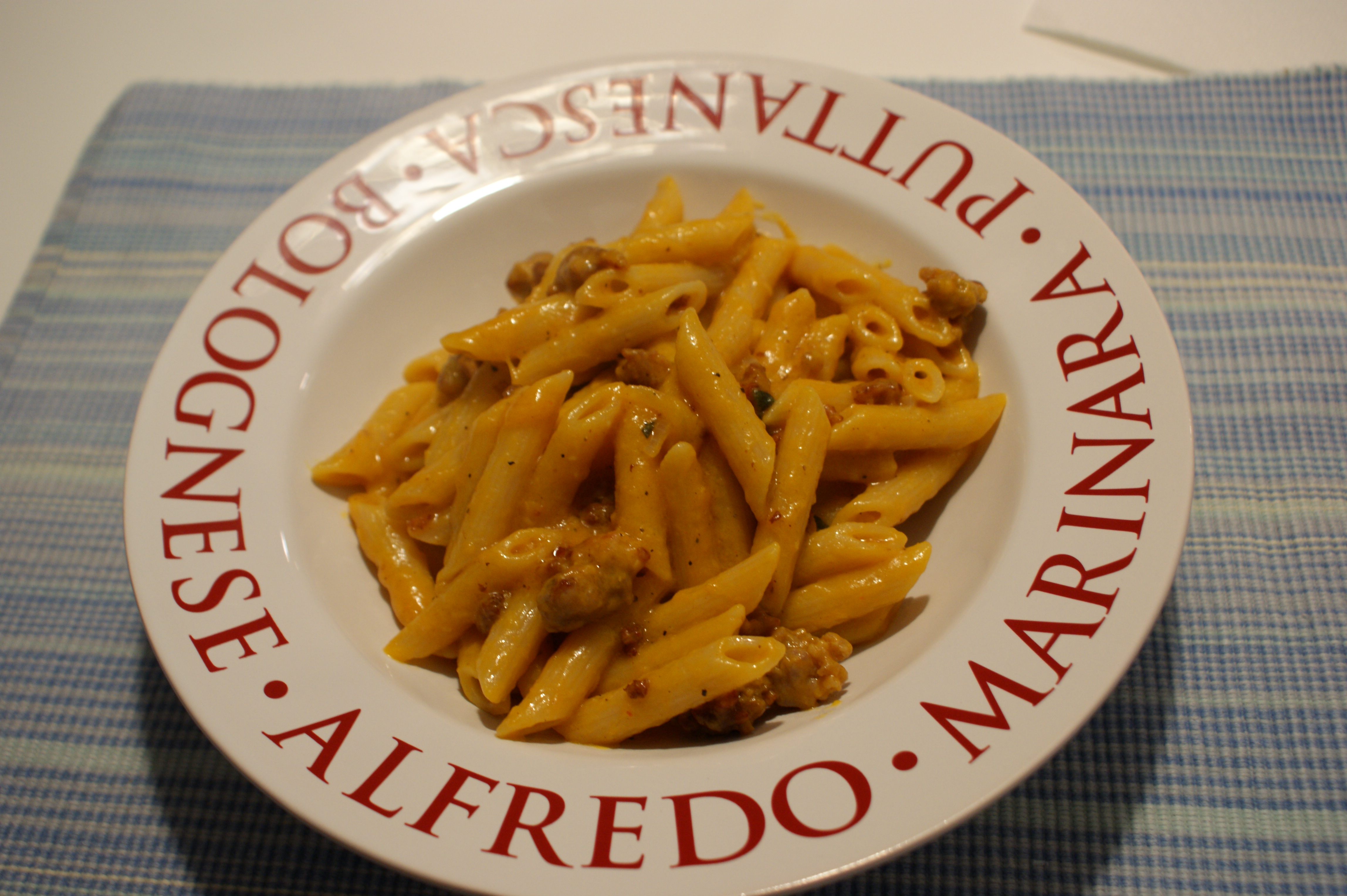 Freshly grated Parmigiano cheese
1/4 c of fresh sage leaves -thinly sliced
1 1/2 of chicken stock
1/4 c of heavy cream or half and half
1/2 tbsp of cream cheese
Freshly grated nutmeg
Directions:
Heat a large pot of water and bring to a boil and add a generous amount of salt – when the water is boiling add the pasta – cook to al dente (almost cooked).  This will allow the pasta to cook later in the skillet and absorb the flavors of the sauce. 
Put a medium skillet over medium heat, add a turn of olive oil and the sausage, brown it, and crumble as it cooks.  Once cooked take off heat and put to the side.
In another large skillet over medium heat, add the olive oil, grate the garlic in and cook for a few minutes.  When the garlic is golden brown, add the chopped shallot and onion and cook until tender.
Now it is decision time – if you want to use pumpkin just substitute it where I have squash.
Thaw the frozen squash in the microwave per directions and then add to the shallots and onions, at the same time whisk in the chicken stock until smooth.  At this point add the butter and cream cheese and heavy cream or half and half, stir until all have incorporated into the squash. 
By now the pasta should be al dente, drain the pasta and add to the "sauce" – thoroughly mix and allow all flavors to meld together. Once done add in the sage, the sausage, and more salt, pepper and garlic to taste, as well as the nutmeg and fold into the pasta.  Leave over low heat for 4 or 5 minutes.   Add the Parmigiano cheese on the top and serve.  I like to leave it right in the large skillet to serve or you could put in a serving dish.  Enjoy!