Every year on St. Patrick's Day a little Leprechaun visits our house much like Santa does on Christmas.  Yes that's right and he enters through various avenues.  Like some years he comes in through the dryer vent 🙂 or other years he slips in through a slightly opened door.  He's very sneaky you know and very cute.  He leaves us green gifts and only green.  You never know where the little fella leaves it either.  Just like we do for Santa we need to leave him a treat.  In this post I will give you the good Leprechaun treat we leave out such as the non-alcohol version and tomorrow night stay tuned for a treat that 2 Irish kids and one that is pretty close made and of course taste tested one too many times.  Let's just say we had bad headaches the next day and also should have a patent on this baby!!!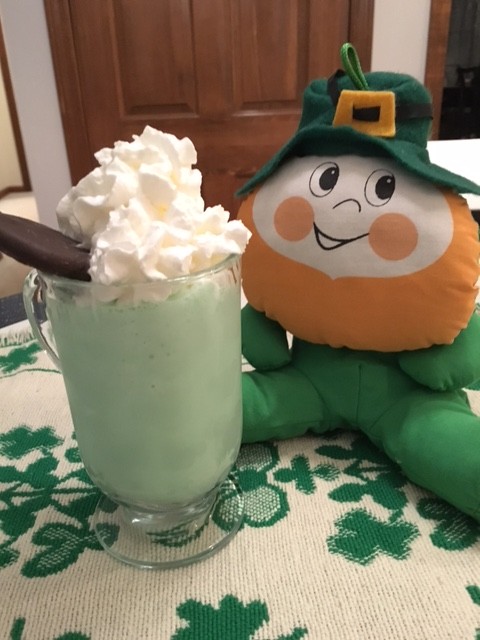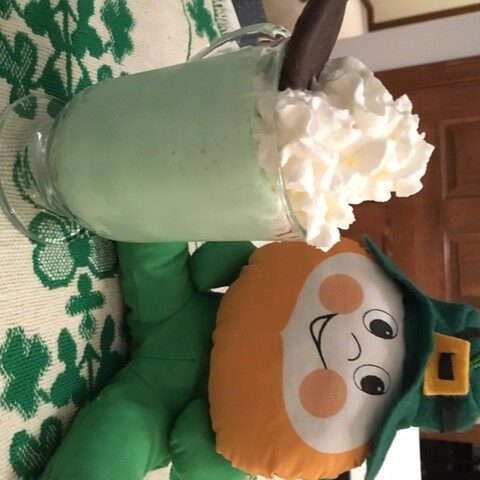 Shamrock Shake!
This minty treat is perfect for the Irish holiday or anytime of the year.
Ingredients
2 scoops of vanilla ice cream
1/4 c and a little more of milk
1/2 tsp peppermint extract drops
1/4 tsp of vanilla extract
5-6 drops of green food coloring
Whipped cream
Thin Mint cookie
Instructions
Add all ingredients to a blender and blend until smooth.
Pour into a glass, add whipped cream and a thin mint on the top.
Enjoy!