Rachael Ray's Week in a Day
I'm not sure how many of you are addicted to watching the Food Network or Cooking Channel like I am, but I rarely watch anything else on television.  You probably know by now that Rachael Ray is my favorite because as I've said before she and I have grown up in very similar situations.  Italian families with grandparents who love to cook and teach about cooking. 
Rachael has a new show  called "Week in a Day."  Rachael spends an hour preparing 5 meals that store well in the refrigerator for later in the week.  This concept is perfect for busy men and women in the workforce because you have your meals ready to pop in the oven after work. 
I have provided a link to a recipe that I tried and it was absolutely out of this world.  My family loved it and it's really very easy to do.  It would be great to try right around now with all this cold weather we've been having.  Give it a try I really think you'll like it. 
http://www.cookingchanneltv.com/recipes/rachael-ray/grandpas-braised-beef-recipe/index.html
My suggestion is you make this on a day where you can put it in the oven early because it has to slow cook for several hours.  This is a good Sunday dish because you can put it in the oven and forget about it until dinner time.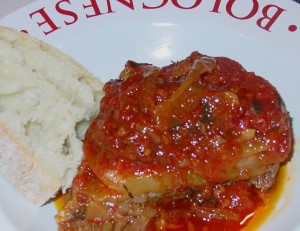 My picture doesn't do it much justice but it is so good.  Don't forget to serve with a piece of Italian bread to soak up all those juices!  🙂
Enjoy