School Days and Memories of Great Lunches (Especially When Your Mother Was a "Lunch Lady")!!
Well in a few short days the kids will be back at school – where did the summer go?  Just this evening I was looking up the lunch menu to see if James would be "buying or bringing" as he states it.  He is attending a new school this year – Christian Brothers Academy (CBA)  in Syracuse, and I have to say the lunches look pretty darn good up there. I think he will be buying lunch quite often.
Looking at the CBA menu brought back memories of when I attended St. Mary's School.  I guess you could say it must be something with Catholic Schools and feeding our souls and our stomachs.  However, my good fortune with school lunches came in the form of three Italian women who cooked for us.  If you attended SMS you know my mother (Julie), Angie Mantella, Mrs. Christie and in later years Gen Ferro were the lunch ladies extraordinaire!!   We "Catholic Kids" made out like bandits at lunch time.
I recall Thursday's were pasta days.  Shells with tomato sauce, Italian bread, salad with Italian dressing and it was ice cream day too!  The shells looked a lot like this picture below.  Every time I make these shells I think of St. Mary's School with fond memories. Oh how comforting those lunches were after a morning with the nuns!  🙂 The lunch ladies were the bright spots of our day.  Nothing like Italian women feeding kids.  Of course I had a added bonus of one of them being my mother!   They really cooked straight from the heart and all of the kids just loved these ladies and their food.  YUM!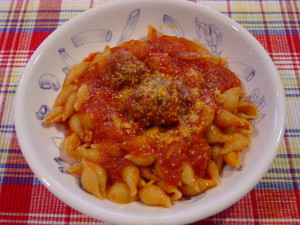 So if your kids aren't as lucky as we were and the school lunches don't have healthy choices here are some websites you might want to visit before you head out for the grocery store to start that lovely task of packing the lunch boxes!
http://www.foodnetwork.com/back-to-school/package/index.html?nl=EATS_090110_P1_School
http://www.rachaelray.com/kids/back2school/index.php?cat=4
http://www.goodhousekeeping.com/food/healthy/ideas-kids-school-lunches
http://www.pauladeen.com/index.php/Feature_Articles/view/back_to_school/
These websites should get you started with some tasty and healthy lunch ideas.  Good luck and hope all of your kids have a great schol year!