Canning Jams – It Really Isn't As Hard As It Looks!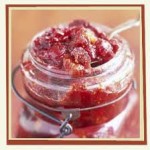 I remember when I was a young girl my Aunt Fran (my Mom's sister) would can jams as well as other great foods.  My Grandma Sue would spend hours in the kitchen canning tomatoes.  I remember spending time with her while she did this exercise thinking to myself that it just seemed easier to go to the store and buy a can of crushed tomatoes!  My grandmother wouldn't ever think of such a thing.  It was almost a sin to do things like that.
Even the Irish side of my family would get into the act.  My Uncle Rolie was the pickle-canning champion in the family and my Uncle Larry made and jarred hot mustard.  Whew was it ever hot but oh so good!
As I grew older and got married I always think about the process my grandmother and aunt and my uncles would go through just to give us nothing but the best in food.  Today career women don't have a lot of time to do these things or so I thought!!
About a month ago I was reading the Paula Deen Magazine when I came across an article on canning jams and pickles.  I read the article a few times and thought that surely I could manage to do this.  Could it really be that complicated?  So off to the store I went to get some jars and pectin and strawberries.  One hot summer night I stood in the kitchen and started to make my own strawberry jam.  Sandro and James anxiously awaited cheering me on. 
Guess what?  I did it!  And Guess what?  I did it again because it was such a big hit with my family.  You can do it too.  Here's what I did:
Strawberry Jam
Ingredients:
2 – 16 oz containers of Fresh Strawberries
3 – 4 c. of sugar (taste after 3 cups to see if it is to your liking – if not add more sugar).
2 tbsps of lemon juice
1/2 c water
1 box (1.75 oz pkg) of pectin
4 to 5 half pint canning jars
Directions:
In a dutch oven or medium sauce pot over low heat add strawberries and start to mash with a potato masher.  Cook stirring frequently until the strawberries start to simmer, add water and lemon juice and stir.  Slowly add in sugar over medium heat until all the sugar has dissolved and the mixture comes to a rolling boil, add pectin and continue to boil until it dissolves and turn to a simmer.
Jars
Sterilize jars and lids in boiling water for at least 10 minutes.  Remove from heat and allow to cool.  Ladle the jam into the jars while it is still hot leaving a 1/4 inch at the top.  Seal the jars with lids and bands.  Add the jars back to boiling water and boil for about 20 minutes and remove from water.  In order to be certain the lid is sealed hit the top of the lid in the center and it should make a high pitched sound.  Do not reuse the rubber seal the next time around as it will not seal appropriately a second time.  All major grocery stores and retailers sell jars, lids and pectin.
So that's about it!  Now just make some scones for the wonderful jam to jam with something 🙂  (another day we'll go over how to do that) and enjoy!  Mmmm so good.